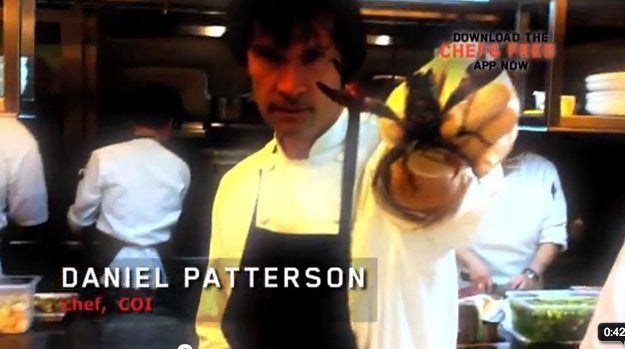 During the first three months that Jared Rivera spent researching his new iPhone app, Chef's Feed, he gained 25 pounds and gave himself a case of gout. "The gout was a surprise," he laughed in an interview with The Huffington Post. All in the name of research.
On Thursday, together with his brother Steve Rivera and San Francisco food writer Sara Deseran, Jared finally launched Chef's Feed -- a digital database of the best dishes in any given city: the food guide 2.0. But instead of gathering feedback from users a la Yelp, Chef's Feed houses a database of information from hundreds of the nation's greatest chefs, like Thomas Keller, Mario Batalli, David Kinch, Wolfgang Puck and Chris Cosentino.
After years of working in bar and restaurant promotion, Jared and Steve, the founders of Rivera Public Relations in San Francisco, became frustrated with the lack of up-to-date resources in the food industry. "Guidebooks become dated so quickly, and Yelp can be frustrating," said Jared. "Yelp is so powerful in the success of a restaurant but it's mediated by people who don't really know anything about food." At the PR agency, the Riveras kept a book of chef recommendations they'd gathered over the years. "The Bible," explained Jared. "Chef's Feed was a way to make that public." But they didn't want to stop at San Francisco.
So for nine months, Jared toured the nation with his girlfriend, Jennifer Olsen, interviewing more than 100 chefs about their favorite dishes -- from Thomas Keller's favorite pastrami sandwich (at Canter's in LA) to Daniel Patterson's favorite pizza (the Margherita at A16 in San Francisco) to David Chang's beloved eggs benedict (at wd-50 in New York) and Michael Mina's favorite ice cream (the brownie sundae with salted caramel ice cream at Bi-Rite Creamery in San Francisco).
Using Chef's Feed, Rivera collected the data, creating a continuously updated digital guidebook. The app includes details like the "Feed Me Now" feature that uses the iPhone map to locate the best dishes nearby. Users can also filter results, so one can easily find the closest chef-recommended cheap vegetarian Chinese food while lost in Chicago.
For now, the application works in San Francisco, New York, Los Angeles and Chicago. But Seattle, Washington DC, New Orleans, Austin and Atlanta will be following soon.
Halfway through the project, the Riveras approached airline Virgin America for a partnership, proposing an in-flight video series documenting Jared's chef interviews on his national food adventure. Jared submitted one eight-minute video shot on Olsen's iPhone and Virgin happily obliged, financing the rest of the project. Olsen became the official videographer and cohost.
"I about cried when I got the email from Virgin," remembered Jared. "I thought 'thank God.' I'd already paid to eat at 95 restaurants at that point." Now, passengers flying Virgin to any city serviced by Chef's Feed can watch Jared's short documentary film about the food in their destination city.
And the app works for locals, too.
"I work in the food industry in San Francisco and we've probably opened more than 100 restaurants, so I thought I knew everything there was to eat around here," said Jared. "But then Charles Phan kept talking about the pupusas at this place called Balompie that was half a block from my house. It was just this little spot that I always thought looked kind of cheesy with a soccer ball for the 'o' on the sign outside. Before I knew it, I was in there for hours drinking Salvadorian jug beer and eating the best pupusas of my life. I'm learning more about my city every day."
The end goal: to create a Chef's Feed in every major city -- presuming Jared's body can take it. "We might have to start doing this over email," he laughed. "But man was the trip a blast." He then launched into a story about a 12-hour ping-pong tournament with New York chef Joey Campanaro. "I swear that guy and I are related," he said.
Steve just smiled. "He's the chef whisperer."