Should you toast those dinner rolls in the oven or the toaster? Do that laundry after breakfast, or after dinner? And what about those clothes washer settings - in terms of those all-important carbon emissions, does it make that much different whether you use hot or cold water to get your laundry clean,? A new online game from set to go live at the end of this month wants to answer all these burning questions, and more.
RED - short for "Renewable Energy Drama" - was developed by Fraunhofer Institute for Digital Media Technology (IDMT) in Germany. It presents a Sims-like domestic scene presented in a home to three family members. Players choose one of these three family members as an avatar, then go about regular domestic chores and activities, learning, in the process, how much CO2 is generated by each of them.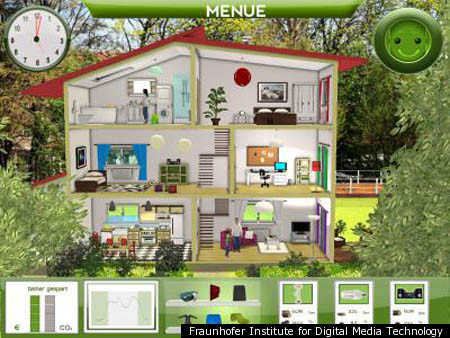 "Online games are very well suited to demonstrating situations taken from daily life. The interactive character supports learning very well, since the user receives individual feedback at all times. For this reason, we designed RED as an action-oriented, interactive 3D application," explained Imke Hoppe, research scientist at IDMT. The game is targeted at both young people and adults who are interested in saving electricity at home.
At each step of the domestic routine, the game offers alternatives and choices for decreasing the carbon footprint associated with everyday activities – such as, for instance, doing laundry when the machine is full, rather than three-quarters full or half full - and calculates how much these small, eco-smart decisions can save a household over the course of a year. The game will be available to play online, free of charge, on September 29.
--