Here's a story that a whole lot of you just might--well--dislike.
The blog All Facebook has discovered that the new Facebook, which was supposed to let users express themselves using any verb and any noun they wanted, will not allow developers to make "dislike" apps or a "dislike" button. Facebook members can currently "Like" status updates, photos and other activity, but "dislike" is not an option.
At the f8 Facebook Developer's Conference in mid September, Facebook CEO Mark Zuckerberg boasted that the new Facebook and its Open Graph would provide users with a whole new range of freedom to express themselves; whereas before Facebook members could only "Like" an activity, now they could combine any verb with any noun.
Apparently, there are limitations. When logging into the Facebook developer's page in order to create a new app, you are first taken to a page asking for the "action" (the verb) and the "object" (the noun) that will define what users will be able to do with their new app, how they will be able to express themselves:

Hypothetically, and according to Zuckerberg at f8, "any verb and any noun" could be entered into these boxes. However, if you try to enter "dislike" into the "action" field, here's what you get: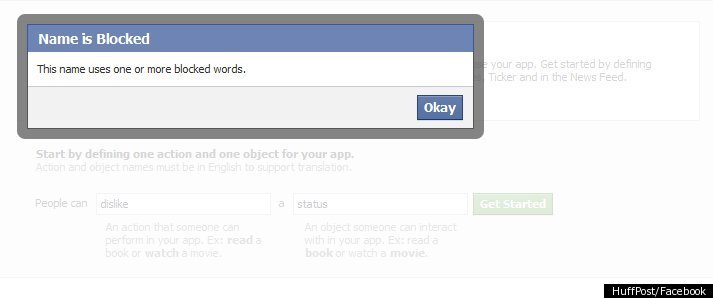 Outrage! If only there were some verb I could use to express my feelings for this decision to ban certain words from Facebook's new apps!
Now, "dislike" is not the only word that is blocked from the new Open Graph: All of the major curse words and slurs bring up the same dialog box of doom. And yet "dislike," which only the most puritanical English speakers would consider profane, is grouped in with George Carlin's 7 Words You Can Never Say on Television.
Though the new Facebook will not allow "dislike," it will let you show your dislike through any number of other words: "hate," "abhor," "despise," "reject," "poop on," "not like," "loathe," "vomit because of" are all fair game for Facebook app developers. "Dislike," however, has been blacklisted and will not be a part of Facebook 3.0.
Facebookers have been clamoring for a "Dislike" button for a few years now, practically ever since the social networking site introduced the Like button in February 2009. A popular Facebook group called "Facebook, give us a dislike button" sprung up days after that introduction in February 2009, and it currently boasts over 400,000 members; a "Dislike Button" Product/Service page on Facebook, with company info listed simply as "LET'S GET IT," is sitting just south of three and a half million fans. Several developers for the Chrome and Firefox browsers have written clever browser apps and add-ons for Facebook "dislike" options, but nothing that truly integrates with the website.
In a July 2010 interview, Zuckerberg said he would "definitely think about" adding a dislike button to Facebook, though after a 15 months of thinking, it appears he has ruled against our quixotic dream of disliking.
We have reached out to Facebook for comment and will update when we receive word. Below, check out all of the other new features from the f8 Conference, where this new class of verb+noun apps was first announced.