An Italian court has overturned the conviction of 24-year-old American Amanda Knox. Knox was found not guilty of killing her British roommate, 21-year-old Meredith Kercher, in 2007, and will be freed from jail.
Knox collapsed in tears after the verdict overturning her 2009 conviction was read out.
Earlier Monday, Knox tearfully told the court she did not kill her roommate. Knox frequently paused for breath and fought back tears as she spoke in Italian to the eight members of the jury in a packed courtroom, but managed to maintain her composure during the 10-minute address.
After the morning court session, Knox relaxed in the prison chapel, playing guitar and singing as she awaited the verdict, according to an Italian lawmaker who visited her in prison Monday.
Knox's co-defendant, Raffaele Sollecito, also was cleared of the murder after a court-ordered review of the DNA evidence cast serious doubts over the main DNA evidence linking the two to the crime.
Convicted in separate proceedings was Rudy Hermann Guede, a small-time drug dealer and drifter who spent most of his life in Italy after arriving here from his native Ivory Coast. Guede was convicted in a separate fast-track procedure and saw his sentence cut to 16 years in his final appeal.
The Kercher family looked on grimly and a bit dazed as the verdict was read out by the judge after 11 hours of deliberations by the eight-member jury. Outside the courthouse, some of the hundreds of observers shouted "Shame, shame!"
Yet inside the frescoed courtroom, Knox's parents, who have regularly traveled from their home in Seattle to Perugia to visit the 24-year-old over the past four years, hugged their lawyers and cried with joy.
"We've been waiting for this for four years," said one of Sollecito's lawyers, Giulia Bongiorno.
The judge upheld Knox's conviction on a charge of slander for accusing bar owner Diya "Patrick" Lumumba of carrying out the killing. He set the sentence at three years, meaning for time served. Knox has been in prison since Nov. 6, 2007.
Prosecutors can appeal the acquittal to Italy's highest court. There was no word late Monday if they planned to do so.
In Seattle, about a dozen Knox supporters were overjoyed that she has been cleared of the murder conviction.
"She's free!" and "We did it!" they shouted at a hotel where they watched the court proceedings on TV.
10/03/2011 6:45 PM EDT
The Court Room
The Perugia court room earlier today.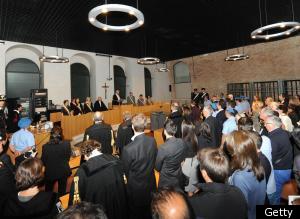 10/03/2011 6:11 PM EDT
Knox Just Wants To Go Home
According to a friend, Amanda Knox just wants to go home, restart her life and "win back her happiness," the Associated Press reports.
AP writes:
Corrado Maria Daclon, the secretary general of a foundation that has championed Knox's cause, drove with Knox as she left Perugia's Campanne prison after an appeals court overturned her 2009 conviction for the sexual assault and stabbing death of her British roommate Meredith Kercher.

Daclon quoted Knox as telling him as she left prison that she just "wanted to go home, reconnect with her family, take possession of her life and win back her happiness."
The AP also reports Knox is likely to return to the United States on Tuesday.
10/03/2011 6:02 PM EDT
Media Erroneously Report Knox Is Guilty
The Daily Mail reportedly published an erroneous story, saying the Italian appeal court found Knox guilty of the murder of Meredith Kercher.
HuffPost Media writes:
British blogger Malcolm Coles caught the Daily Mail's huge error, writing, "I'm not sure it can get more embarrassing than this for a news site." According to Coles, the newspaper jumped the gun, publishing its pre-written story as soon as the judge deemed Knox guilty for defamation.
Read the full story here.
10/03/2011 5:59 PM EDT
Timeline
A recap of key dates in the Amanda Knox trial on HuffPost World.
10/03/2011 5:51 PM EDT
"Amanda Was A Nervous Wreck"
"As you could see from the images, Amanda was a nervous wreck who just collapsed," Maria Del Grosso, one of Knox's lawyers told reporters. "She wasn't able to say anything other than 'thank you' in a flood of tears."
10/03/2011 5:46 PM EDT
U.S. State Department Reacts
The U.S. State Department said it appreciated the "careful consideration" the Italian justice system gave to the case, the Associated Press reports. "Our Embassy in Rome will continue to provide appropriate consular assistance to Ms. Knox and her family," spokeswoman Victoria Nuland told the news service after the verdict.
10/03/2011 5:38 PM EDT
Tweets From Perugia
The Independent-reporter Peter Popham tweets from Perugia:
| | |
| --- | --- |
| | @ peterpopham : Weird mood in Perugia's medieval heart, thugs baying for Amanda's blood, robbed of the witch they wanted to burn. |
10/03/2011 5:35 PM EDT
Amanda Knox Returning To The U.S. As Soon As Possible
Getty captured Amanda Knox leaving Perugia's court on Monday night. Knox will reportedly return to her hometown Seattle as soon as possible.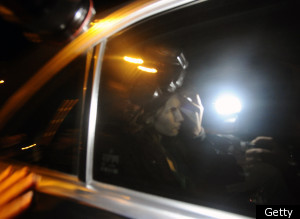 10/03/2011 5:28 PM EDT
Did Media Coverage Influence Knox's Trial?
Did world media coverage affect Amanda Knox's trial? Vote here.
10/03/2011 5:26 PM EDT
Knox Leaves Capanne Prison
Amanda Knox has left prison, The Telegraph reports:
"Knox has just been driven out of Capanne prison for the last time, ending her four year nigthmare."
PHOTO GALLERY
Amanda Knox trial