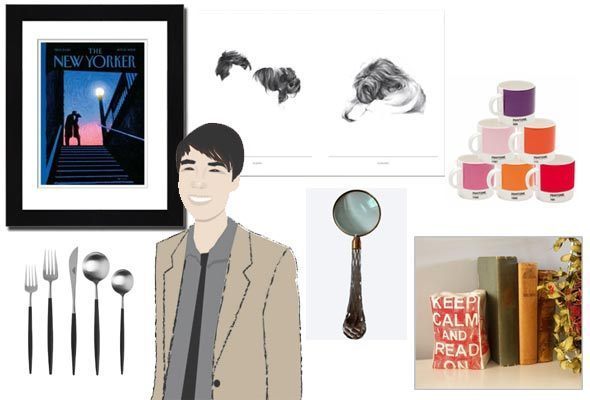 Autumn is one of my favorite seasons of the year, second only to winter. There's something about the colder weather and shorter days that I find exhilarating. Perhaps it's because I grew up accustomed to winter snowstorms or it's the sight of people all bundled up. Either way autumn is the time when I look forward to staying in.
Clockwise from top left:
Who doesn't love a framed old New Yorker cover that's moody and seasonally appropriate? L'Etranger expressive hair drawings by Erika Altosaar, $20. Pantone espresso cups in autumnal hues are the perfect way to jump start a fall morning, $54 per set. I can't help the cheeky grin on my face every time I see this witty Keep Calm and Read On lino-block fabric printed bookend, $29. It's hard to justify an expense like this one but I've always wanted a large vintage magnifying glass just like this, $75. And although (unfortunately) pricey, these slender Portugal-made GOA flatware pieces are just so pretty to look at from afar, $75 per set.
Portrait illustration by the fantastic fashion illustrator Don Oehl.