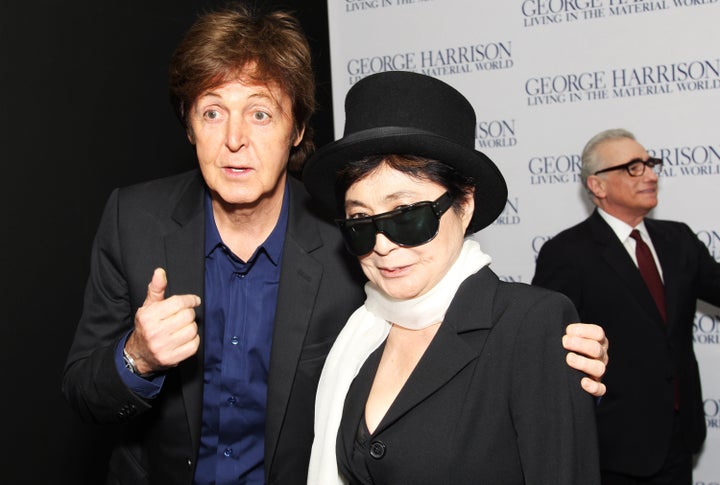 Having traded barbs in the press for the past 40 years, alternating moments of anger and accusation with reconciliation and kind words, it's hard to know just where the relationship between Yoko Ono and Paul McCartney stands at any given moment.
Back in 1971, McCartney took a shot at Ono, whom he believed broke up The Beatles and his close friendship with John Lennon, her late husband. "Too many people pulled and pushed around/Too many waiting for that lucky break/That was your first mistake/You took your lucky break and broke it in two," he sang in "Too Many People," a clear shot at Ono.
Since then, they have sniped back and forth; in the last decade, McCartney complained that Ono snubbed him on the "Yesterday" song credit, and Ono labeled McCartney an inferior musician to Lennon at 2005's Q Awards. The feud is filled with such back and forth potshots.
The relationship seemed to have thawed out in 2010, when Ono credited McCartney for saving her marriage to John in an interview with The Times. Then, this summer, things got tossed back up in the air when, having both shown up for an event in Las Vegas for a Beatles Cirque du Soleil show, they declined to pose together.
On Sunday, though, things seemed to be back to at least luke warm, as Ono and McCartney both showed for the premiere of Martin Scorcese's documentary about George Harrison. Putting aside any differences, the two posed together on the red carpet, casting aside any feud they might have to honor the most spiritual Beatle of them all. Also showing up were the one Beatle who was liked by the whole gang at all times, Ringo Starr, as well as Harrison's son, daughter-in-law and widow, Olivia.
PHOTO GALLERY
Paul McCartney, Yoko Ono Come Together For George Harrison Documentary Premiere
CORRECTION: An earlier version of this story initially said that Olivia Harrison was George's daughter. She is in fact his widow; George Harrison had no daughter.
BEFORE YOU GO