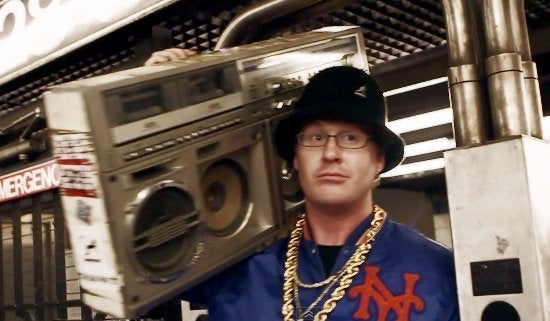 With the release of his video for "Legend in My Own Mind" by psychedelic outfit The Stepkids, Tom Scharpling's career as a music video director is beginning to rival his job hosting the beloved "The Best Show on WFMU." Beautifully shot and joyously evocative, the video may be his best yet.
The video features "Daily Show" correspondent Wyatt Cenac as a street CD husker, and Kurt Braunohler, a favorite of the New York City comedy scene, as an eager customer who buys a Stepkids album from Cenac.
Braunohler, who was recently seen with his comedy partner Kristin Schaal in the documentary "Tell Your Friends! The Concert Film!", then enters a dreamlike haze in the video and jaunts through a slowed-down, sepia-tinted New York City, grinning and high-fiving passersby with an old-school oversized boom box slung over his shoulder.
WATCH: (Note: You may be redirected to YouTube to watch the video.)