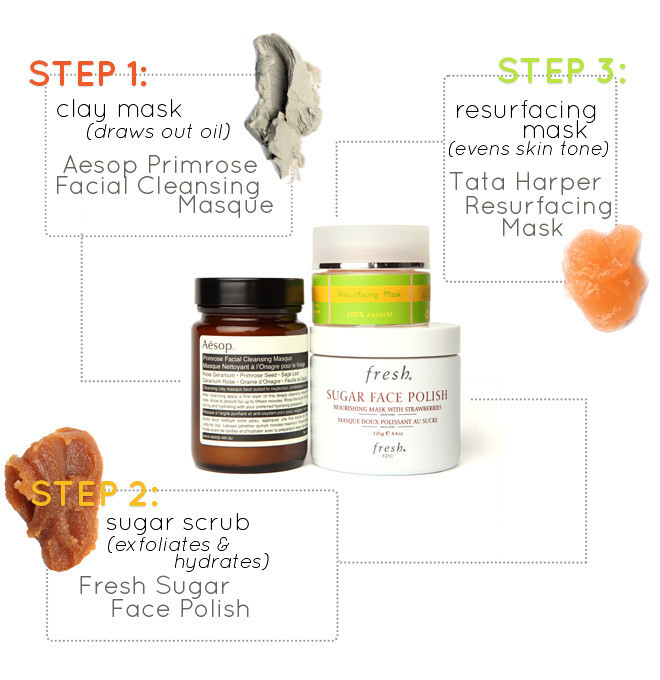 Photo: Bobby Doherty
Admittedly, face masks were slightly uncharted territory for me. I didn't really get into them until the past year. So when I came across these three (each with different functions) I decided to try them all. One after the next. Same night. This could have gone horribly wrong, and my face could have fallen off. But no, it did not. The opposite actually: My skin was (abnormally) glowy, smooth and hydrated. And decidedly less blackhead-y (sorry). Each mask works its own different magic, so if you follow the steps, you don't have to worry about any irritation or disastrous reactions.
I start off with Aesop Primrose Cleansing Facial Masque. This mask is great because it dries out all the excess oil without sucking your skin dry. Leave it on for ten minutes, then wash off with warm water. Your pores will be visibly smaller.
Next, it's the sugar scrub from Fresh. It's called a polish, but it doubles as a mask. Leave it on for five minutes, then exfoliate off all the dead skin cells and stuff you've brought up to the surface with the clay mask. At this point, your face will be looking insanely glowy.
Then it's on to Tata Harper's Resurfacing Mask. This sort of seals in all the hard work from the last two masks. It smooths away any existing unevenness, eradicates any blotchiness and leaves your skin super, super soft. Plus, it has a firming effect.
I try to do this regimen about once a week, and I've definitely noticed a difference in fewer breakouts, less fine lines and an improvement in all-over glowiness. (My skin has a tendency to be more blah and dull than anything, so the last mask really helps the cause.)
What's your skincare regimen? Tell what you products you use in the comments.
--
Where to buy:
Aesop Primrose Facial Celansing Masque, $35, barneys.com
Fresh Sugar Face Polish, $55, freshcosmetics.com
Tata Harper Resurfacing Mask, $55, tataharperskincare.com