Someone working inside the Chicago Board of Trade has a message for Occupy Chicago protesters, proclaimed via sheets of paper taped inside four of the building's eighth floor windows: "We are the 1 percent."
The image, playing off the "We are the 99 percent" slogan adopted by Occupy Wall Street protesters and many others who have joined them in solidarity across the nation, was photographed late Tuesday by a protester.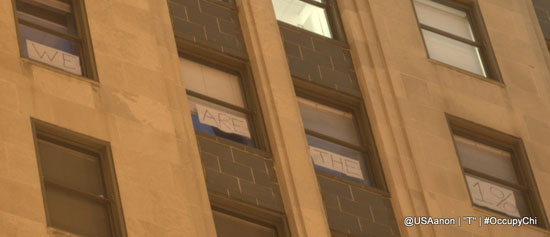 Nearing the end of their second week of demonstration, the occupiers have faced a heightened police presence in recent days. On Wednesday, they reported that police are "threatening arrests and citations if the supplies (our stuff) are not constantly moving," forcing the demonstration to remain moving at all times and introducing a significant obstacle to their continued occupation outside the Federal Reserve Bank at 231 S. LaSalle St.
Nevertheless, demonstrators have vowed to press on, tweeting Wednesday morning," We will not back down. Ever." They plan to maintain some form of a presence on LaSalle Street until at least December.
College students in Chicago and throughout Illinois were expected Wednesday to join dozens of other campuses in a nationwide noon walkout in support of the Wall Street demonstration. Students at Columbia College Chicago, Illinois State University, Bradley University and Southern Illinois University Carbondale were slated to participate.
According to Medill, no arrests have yet been made at the Chicago demonstration, which has, at its peak, attracted some 300 participants. They quote a Bank of America spokeswoman who said the protesters have chosen to "ignore the facts, and instead focus on increasingly aggressive PR stunts."
Click here to view photos from previous days of the Occupy Chicago rally.
Have additional photos or tips on what is happening around the Occupy Chicago demonstration? Contact us at chicago@huffingtonpost.com.
WATCH Occupy Chicago demonstrators discuss why they are participating in the rally in the video below, taken Oct. 3 and produced by Progress Illinois:
Hat tip to Chicagoist for bringing the Board of Trade photograph to our attention.