When a Miami teenager -- inspired by a screening of the new movie Archie's Final Project -- created a video announcing that he was "an Archie" and posted it to the film's Facebook page, a social media movement was born. Since then, thousands of teens have joined the IAmAnArchie campaign – an effort to promote teen suicide awareness and prevention -- posting photos, videos, and words of support to the film's Facebook, Twitter and website.
Archie's Final Project is about a 17-year-old media-obsessed geek named Archibald Holden Buster Williams (played by Gabriel Sunday from The Suite Life of Zack and Cody and Taking Woodstock) who, in the words of director David Miller, "grew up in the digital sandbox." As his final class project, Archie announces that he is going to kill himself on camera. For the first time in his life, this gets the attention of everyone at his school, including Sierra Silver (Brooke Nevin), the beautiful but troubled girl he loves.
Archie's Final Project is a Catcher in the Rye for the YouTube generation, and in that spirit, it's been endorsed by the poster boy for YouTube stars, Shane Dawson. I chatted with Shane about the film and he said: "A lot of kids tell me, 'I want to kill myself, I don't know what to do about it,' and I feel like this film has so many answers for them. I knew it would speak to them because it's so current and it's so in their voice."
After the New York Archie Premiere, I met with lead actor Gabriel Sunday on the rooftop terrace of the Park-Meridian Hotel to talk about Archie: the film, the social media campaign, and the character.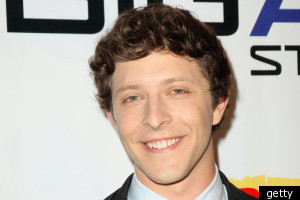 What drew you to the character of Archie?
The theme of connection -- trying to figure out how to reach out and somehow be really involved with people other than yourself -- was one of a lot of themes in the film that really intrigued me. The ADD nature, narcissism, suicide, depression, isolation, media overload, social pressure, kids feeling over-connected and completely disconnected… all those things were very relevant. The main thing Archie was trying to do was figure out some way to connect, and that really resonated with me. I started using the film as a way to figure out where I needed to go to heal myself.
You played an active role in creating this character. In what ways is Archie informed by your own personality and experiences?

Archie is obsessed with movies, he blacks out his windows, he's obsessed with media and cameras, he's into all this music… a lot of that was informed by me. My infusion into the character was giving him this wacky, crazy vibe that I feel very strongly about. Before I got involved, Archie was sort of this brooding, Donnie Darko teen figure. One of the things I have against modern film is that a lot of the teens are depicted by adults as this ambivalent, 'I don't know how to feel, I don't have emotions' type. Kids are emotional and they're crazy. I'm so tired of seeing movies with that character who doesn't talk because he doesn't have a voice. That's an adult who doesn't understand kids. Kids have voices -- they've got loud voices these days.
Archie is a media child who is so overwhelmed with information. How do you think this constant interaction with media and technology affects young people?
I think the biggest things that are scary for young people, and which contribute to suicide becoming such an issue, is the obsession with instant gratification. If you want to buy something, talk to somebody, text your girlfriend or boyfriend, find information, or if you're upset and you want to call somebody out on it, you can do it immediately. But if you're kicked out of your house for being gay, if you're struggling with mental issues, if you break up with a girlfriend or boyfriend, you have this deep pain and you're so used to acting immediately. I think that's why suicide is getting younger and younger.
Why do you think this film and the IAmAnArchie message has resonated so strongly with teens?
I think the reason this whole IAmAnArchie campaign started is because kids in the festival circuit would be like, "Oh, that's me. Archie is me." There are so many ways you can connect with that character and kids always connect with him, no matter what place or what country they're in. They feel that sh** that he's going through, and they're living it. So they started giving that feedback and saying "I'm an Archie because I'm depressed and I hate my family, or I'm creative and I love making art but people don't understand it."
I've been connected to the issue of suicide for six or seven years, and I know that what kids need to hear more than anything is that they're not alone. That ended up being our message with IAmAnArchie: "Yeah, I'm scared, I'm depressed, I'm obsessed, I'm whatever, but I'm also an Archie because there's a million Archies and they're all going through crazy s***."
Need help? In the U.S., call 1-800-273-8255 for the National Suicide Prevention Lifeline or call TeenLine at 1-800-852-8336.

BEFORE YOU GO