Since Occupy Wall Street began four weeks ago in New York City, the group has inspired protests in Los Angeles, Washington D.C., Chicago and many places in between. Aside from the theme of income inequality, the protests have a common thread in that they are well documented by the citizen journalists observing or participating in their home cities.
Aside from the group's formidable internet presence on a Tumblr that showcases Americans dealing with joblessness and other issues, independent citizen journalists have been reporting their observations, recording video and shooting photos of the events across the country.
OfftheBus, the Huffington Post's citizen journalism program, has been working with and publishing the work of independent volunteers since 2007.
We've gotten many great submissions of photos, video and first-hand accounts from Occupy events that have been published on The Huffington Post's liveblog. We're also collecting it all here to specifically highlight the work of citizen journalists.
If you'd like to submit your own photos, videos or reporting to our Occupy Wall Street coverage, you can contribute by adding a photo or video to the slideshow below or emailing us at offthebus@huffingtonpost.com.
The Huffington Post also has several photo galleries dedicated to Occupy movements in certain cities. You can add your photos to galleries based in Los Angeles, San Francisco, Chicago or Boston.
If you're getting into this citizen journalism thing and want to do more, we hope you'll join our cadre of volunteers in OfftheBus, where we'll be working together to cover the 2012 elections. If you'd like to sign up, visit offthebus.org.
PHOTO GALLERY
Occupy Wall Street: Reader-Submitted Photos From The Events
06/05/2012 5:04 PM EDT
On The Ground In Wisconsin
Off The Bus received these images of campaign literature being distributed in Wisconsin from a citizen journalist on the ground.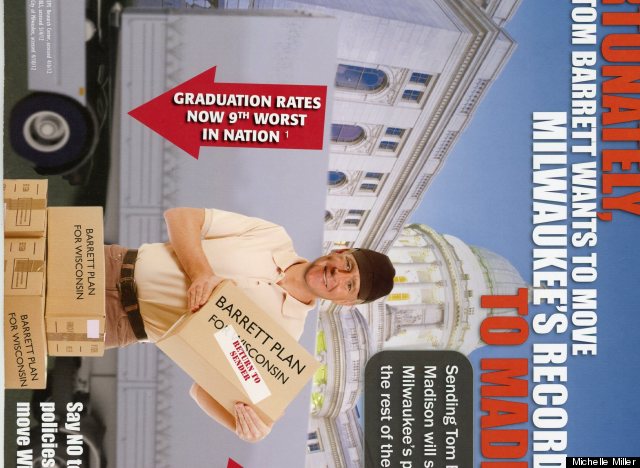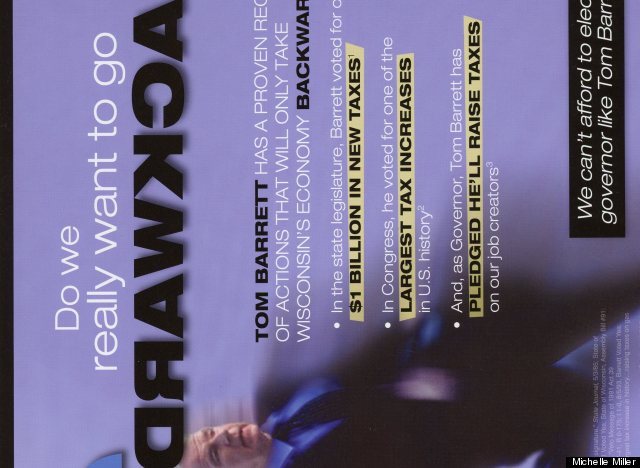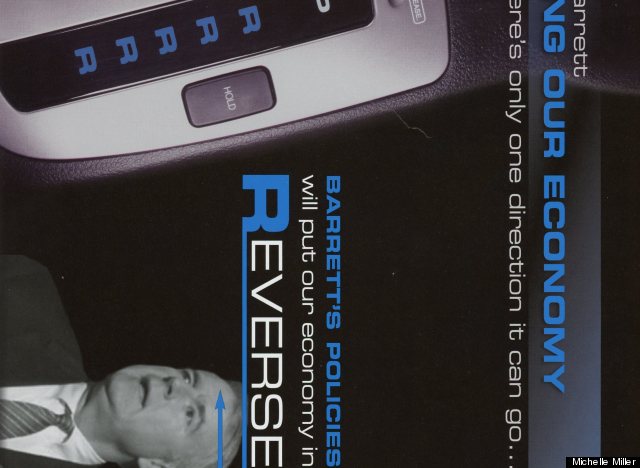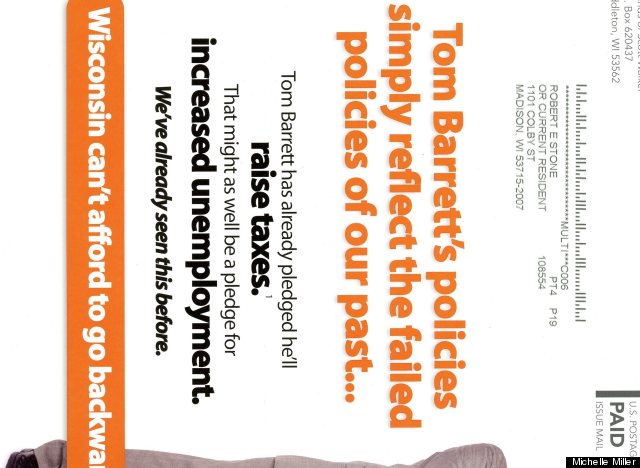 -John Celock
05/24/2012 6:00 PM EDT
It's A Bird, It's A Plane, It's MoveOn
Gena Madow from MoveOn.org sent in this photo of an aerial protest the progressive group is doing over the Mitt Romney fundraiser in Boston Thursday evening.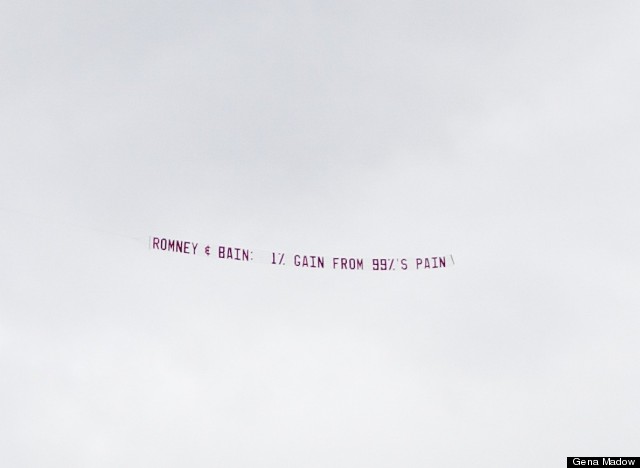 05/23/2012 6:08 PM EDT
The Prize Behind Door Number 3?
Staeppan Snyder sends in this report from California.
On both my home phone and mobile phone I agreed to answer a few questions about politics in exchange for a two day cruise to Bermuda. I think there were five questions:
1. What caused financial crisis
2. What should be main priority of politicians
3. What's your main source of political news
4. What you thought of the presidents job performance
5. If election were today would your presidential vote go to Obama or Romney
Most of the answer choices seemed to be what I'd call Republican talking points.
After answering the last question I was connected to a "travel specialist" who congratulated me on my prize and immediately wanted by full name, address, email. On both occasions when I refused to provide any personal information until provided with a full explanation of what exactly I had won so I could decide if I wanted to proceed I was told "just a moment" then they hung up, call was ended. On second call after third request for my name I very clearly said I would not provide any personal information until they fully explained what I had won then click, they hung up.
I was left with the impression, based on answer choices, that someone was trying to identify people with conservative political attitudes, get their name and contact information so they could be a source of money for conservative causes. I strongly suspect the travel award was so meager and with so many restrictions that would make it of little or no value to most people.
05/23/2012 6:05 PM EDT
Obama, Dems Praised For Manhattan Outreach
Nathan Witty sent in this report from New York City.
Here, mid -Manhattan, I think the Obama campaign and local Democratic office holders have done well to reach voters. i've received mailed pitches from all and have responded positively except when information I feel intrusive is asked of me and I think the neighborhood is strongly for the president and our congressional office holders.
05/14/2012 4:04 PM EDT
Oregon Woman Says Robocall Rejected Her Choice
Barbara Guetti from Portland, Ore. sends in this report on a recent robo-call she received.
I got a robo-call a few days ago, Friday May 12 or Saturday May 13, asking me to choose the most important issues in the 2012 elections. The choices were all republican choices (I, of course am a Democrat).
They were easily recognizable as republican obsessions from the news, but I can't remember exactly what they were. There were three of those and then after a pause, at the very end, there was a fourth issue: Reforming Health Care.
I chose that four times, and each time they (that is, the robo-call) just went back again to the first three. Finally, on the fourth try, the call ended.
05/09/2012 5:36 PM EDT
PHOTOS: Bank Of America Protests in Charlotte
Eric McManus reports from North Carolina and shares these photos he took of today's protests in front of Bank of America headquarters in Charlotte.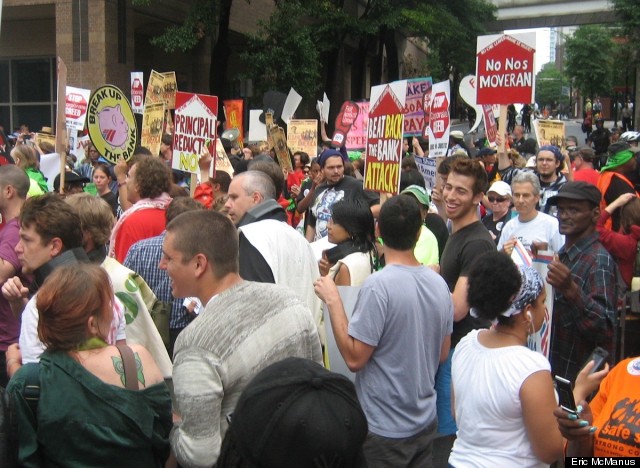 "http://i.huffpost.com/gen/600288/thumbs/s-BOA-OTB-II-large640.jpg?4" width="570"/>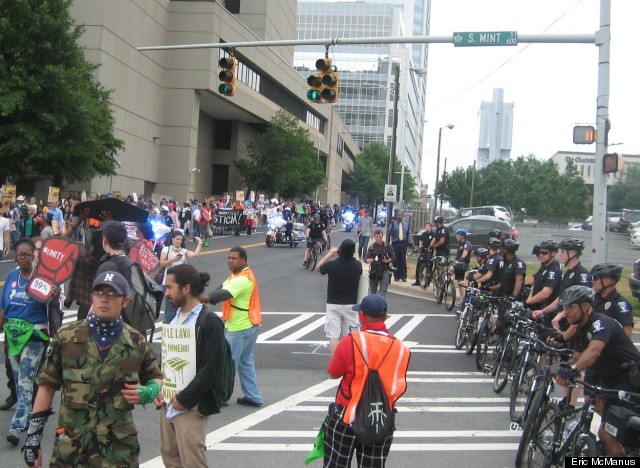 05/09/2012 5:20 PM EDT
Huckabee Robocalling Westchester
Dale Silenok from Westchester County, N.Y. sent this in.
My husband is a registered Republican so we get calls occasionally for polling and donation purposes. I took a call last week that started with a recorded greeting from Mike Huckabee, stating that everything wrong with our country today (including the price of gas) is Barack Obama's fault. I listened to his drivel and he said press 1 to talk to a party member (which I did). A woman got on the phone and said basically the same stuff and asked me if I thought things were better today then they were 3 years ago. I said, yes, a little bit better, and added "but he's a Muslim and I don't think a Muslim should be allowed to run our country; what do you think?" Her answer - "I agree with you on that!" Then she asked for one or two hundred dollars (me: "No").
05/08/2012 2:30 PM EDT
Church Promotes Vote On N.C. Gay Marriage Amendment
Lea Bullard sends in this report from Wilmington, N.C.
Attached is a picture of the sign voters arriving at one local polling place in Wilmington, NC are being greeted with this morning. I'm guessing it's legal, but it's not appropriate for any polling place to advertise any political stance on an issue being decided in that day's polls. North Carolina is voting on Amendment One today, which includes language about marriage only applying to man-woman unions.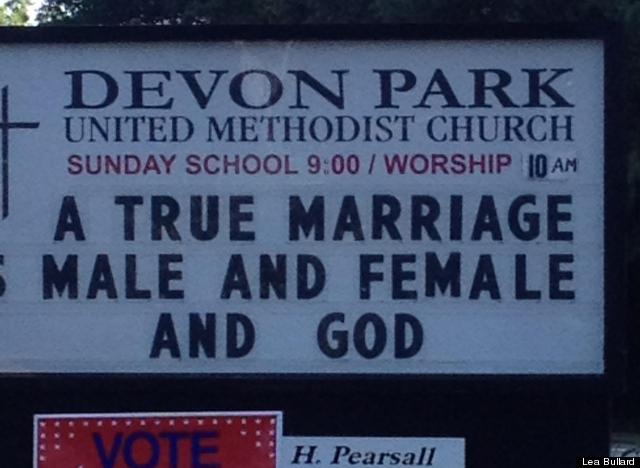 04/25/2012 1:11 PM EDT
Light Primary Turnout In New Haven Area
Richard C. Green from West Haven, Conn. sent in this report about Tuesday's presidential primary in Connecticut.
I'm a registered Republican in Connecticut and I voted in the primary today. Turn-out in the afternoon was rather sparse, but the monitors seemed to expect a very big rush at dinner time.
The New Haven area is very much a Democratic stronghold but Romney should do extremely well in the Wall Street bedroom towns of Greenwich, Darien, Westport and Fairfield. Republicans well outnumber Democrats in the eastern coastal towns, like East Haven, Branford, Guilford and Madison.
The state capitol city, Hartford, is almost entirely Democratic and still mired deep in recession. We have no Republican congressmen at all, having lost one of our six in the last census. Now we have five and they are all Obama supporters.
04/19/2012 4:12 PM EDT
Republicans Agressive in Gabby Giffords District
Kathy Frazier from Arizona has this report on the race to succeed Gabby Giffords in Congress. Republican Jesse Kelly won Tuesday's primary to face Democrat Ron Barber in the June special election.
I live in Gabby Gifford's district. I am not registered with any political party. Here in Arizona you must be registered with a political party to vote in the primary. And yet...I have received multiple mailings and robocalls from the Arizona Republican Party in the weeks leading up to the special primary election. Every single mailing and robocall says absolutely nothing about either the GOP candidates or what ideas the party has. They are totally geared towards painting the sole Democrat candidate as bad for Arizona.