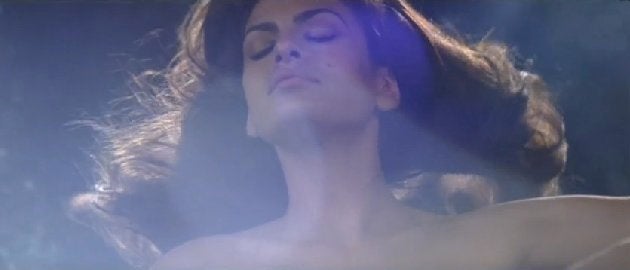 Wherever Eva Mendes is heading on that train, we want a ticket. One way, please.
The actress features as the new face of Thierry Mugler's Angel perfume, but it's her voice that stars in this recent spot for the famed scent. Hurtling through the night of Prague on one of those super speedy and luxurious bullet trains, Mendes takes a whiff of the scent and is transported into a colorful, heavenly sky, swirling with beauty and blowing her hair just so. Mendes also sings in the clip, delicately calling out "Windmills of Your Mind" like it's a secret between her and the clouds.
As our friends at Stylelist point out, the original plan for the commercial didn't actually include her singing; she found inspiration by singing the song to herself while preparing for the shoot, and so they incorporated it into the ad. Good choice.
WATCH
: