Most states have cut state funding for schools this year, and a majority of states are funding K-12 education at levels lower than before the recession, after adjusting for inflation.
A survey published Thursday by the Center on Budget and Policy Priorities examined 46 states -- where 95 percent of the country's elementary and secondary students reside. Delaware, Idaho, Indiana and Washington were excluded because the way they report funding data makes historical comparisons difficult, the researchers note.
Of the states studied, 37 have trimmed K-12 educational funding since last year, after adjusting for inflation -- 19 of those states cut funding by more than 5 percent.
Looking back to before the recession, at least 30 states are funding schools at levels lower than they were in 2008. More than half of those -- 17 -- have cut funding by more than 10 percent, while Arizona, California, Hawaii and South Carolina saw the deepest spending cuts, slashing educational funding by more than 20 percent since pre-recession.
Since nearly half of all education spending is state-funded, according to the report, state cutbacks force districts to raise revenue on their own -- which is difficult -- or trim resources like educational services and lay off teachers -- thus threatening educational reform efforts. The cuts have also hurt economic recovery, as 194,000 school jobs nationwide were lost between August 2010 and August 2011 -- more than three times the cuts in the year before.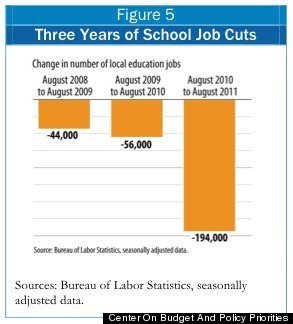 The loss of educational funding across the country results from various factors, including depressed revenues, difficulty in raising new funds, rising costs and depleting emergency federal aid, according to the report.
Still, a few states have increased educational funding for various reasons. Some states like Maryland, Massachusetts and Iowa have prioritized and focused on sustaining or improving education funds amid tighter finances. Alaska, Montana, North Dakota and Wyoming have faced fewer budget cuts and can draw on large oil and gas revenues.
The results of the CBPP report are more telling than shocking, as it sums and contextualizes what prolific reports on school budgets have spotlighted over the last few years. While states balance their budgets, they also face the added burden of less federal support as $100 billion in federal stimulus money for education dries up.
Michigan saw the 8th largest cuts in educational funding dollars this year compared to last, according to the report. For Detroit Public Schools alone, the district has been looking for every way to close a $327 million deficit. Measures include major cuts to teacher pay and workforce.
Earlier this year, Texas cut public education funding by $5 billion amid a $15 revenue shortfall statewide. Texas' cuts place it right next to Michigan, ranking 7th in the dollar amount reduced since last year and 3rd for percent change in spending per student since last year. Analysts predict that the cuts will cost Texas 49,000 education jobs over the next two years.
Wisconsin in June adopted a budget that drops $800 million from state education funding. The state had the 2nd largest cuts in dollar amounts for per-student spending since last year.
The CBPP report's authors Phil Oliff and Michael Leachman suggest that states consider other measures to raise revenue and calls on the federal government to increase educational support like that of the American Jobs Act that aim to hire and retain teachers.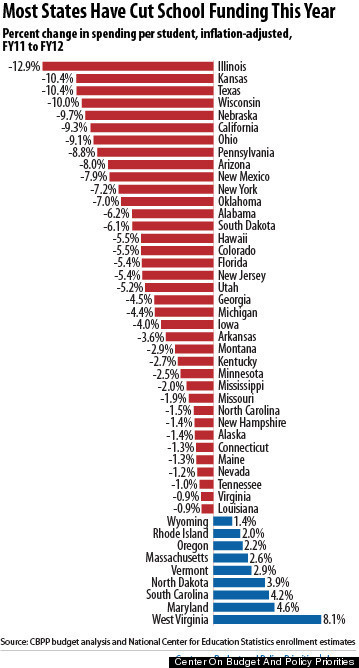 -