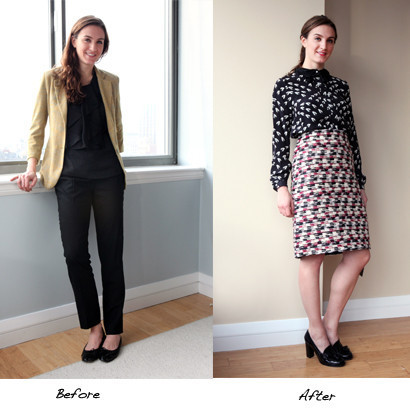 Photos by Bobby Doherty
One of my best friends is a 24-year-old who works at one of the largest banks in New York and with so much on her plate, she doesn't have a lot of time to think about getting dressed in the morning. "It's always something easy like black pants, a blazer, pretty straightforward since I'm always in a rush," she told me while going through her everyday workwear routine. Though she regularly works in the office, much of her day is spent traveling around the city and outer boroughs visiting clients. For her schedule, she told me that what works best is "heels for the office, flats for out of the office. I tend to stick with neutral colors and solid fabrics." She continued, "it's hard to really dress up for the day and express my own individual style. I don't ever want to be too over-the-top or too fashion-forward since I'm afraid of not being taken seriously in the office because of what I'm wearing."
Being in finance is definitely a tough-as-nails gig, but that doesn't mean you have to sacrifice style for total substance. I had the pleasure of giving this hard working girl and her everyday ensembles a bit of a fashion boost, mixing in some sophisticated prints and pops of color that brought her basic banker look from bland to bold in an instant.
Take a look through the photos to see the entire makeover.
And don't forget to check out these 10 pieces that will help you achieve ladylike polish at the office.