This week's athlete tweets were dominated by two events. The first was the cancellation of the first two weeks of the NBA season. While players seemed to take a more lighthearted attitude towards the lockout in earlier weeks, as the deadline approached to reach a deal prior to the start of the regular season, the tone of the tweets shifted to frustration.
The second major event was the passing of legendary Raiders owner Al Davis. Several former players weighed in on the man who was one of the most recognizable authority figures in NFL history and the soul of the Oakland Raiders for more than five decades.
As usual, we've scoured our timeline from the past week to bring you what we believe to be the best of the best that athletes have to offer via Twitter. Vote on which athlete you believe had this week's best tweet. The winner will be given remarkable Interweb cred and 140 characters worth of salutations via the @HuffPostSports twitter account.
Last week's champion athlete tweeter was Houston Texans running back Arian Foster, who despite all his success, poignantly expressed his desire to live in a different era.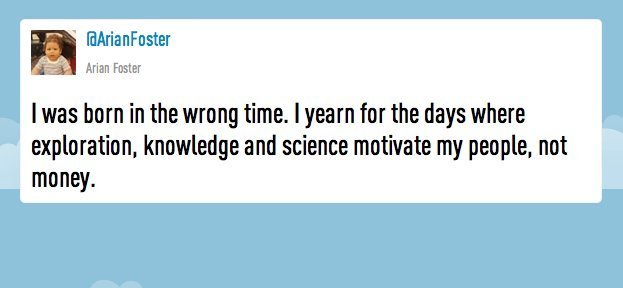 Please congratulate him on his tweeting prowess by giving him a follow @ArianFoster.
PHOTO GALLERY
Best Athlete Tweets Of The Week (October 3rd-October 9th)