In beauty blog Into The Gloss' column Top Shelf , Emily Weiss invades the bathroom of model Coco Rocha. Amongst her discoveries? Apparently Rocha still owns a lipstick that her mother gave her when she was six (ew), "I hold on to a lot of things too—I still have my first lipstick that my mom gave to me when I was six or something. It hasn't been used for many years, but I kept it because it's such a cool memory." Gross. Also, Vogue let her raid their beauty closet, "When I went up to the VOGUE office, they let me go into the beauty closet and take a few things. Everything I saw the main makeup artists use, I went and grabbed it." We're jealous.
Also, Mrs. James Conran reveals that she loves makeup but most other models don't. Who knew?
It's funny when I see other models that I've worked with on the street and they say, surprised, 'Were you working? Why do you have makeup on?' almost like, 'Why would a girl ever wear makeup?' And I don't understand, because every other girl does, at least something, but models don't wear anything. I mean, they will not even wear cover-up. I just don't understand because you learn everything…you learn all the tricks of the trade, why not use it on yourself?
Some girls are just naturally gorgeous (even if they are too thin). If you've got it, why not flaunt it?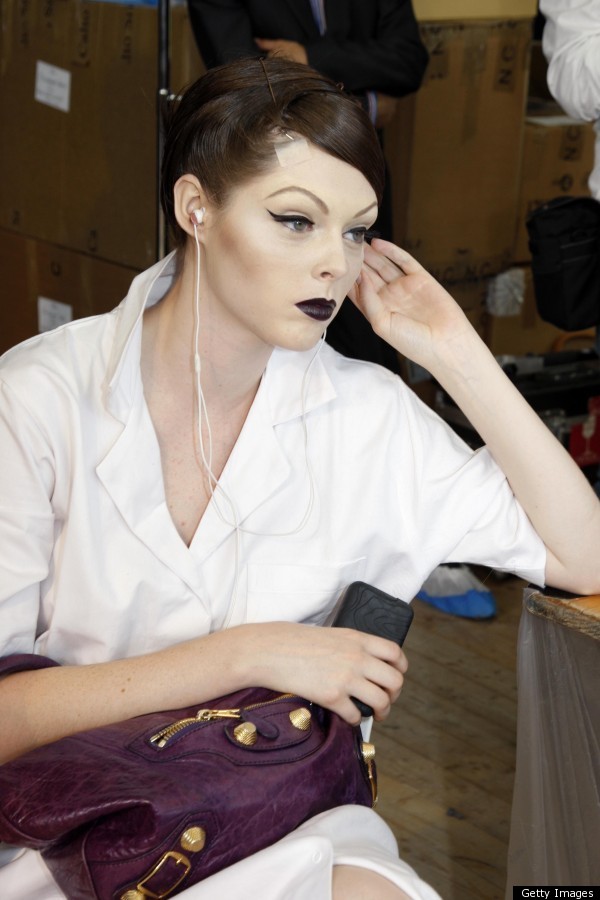 Coco Rocha backstage at Dior's Fall 2008 Runway Show in Paris