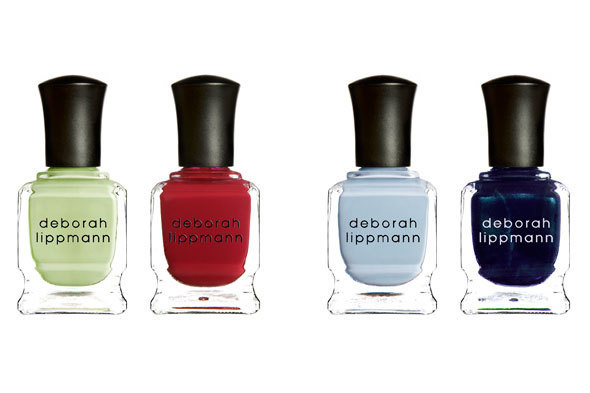 Deborah Lippmann "Footloose" nail polish collection (from left to right: Almost Paradise, Footloose, Let's Hear It For The Boy and Dancing In The Sheets) Courtesy Photo.
I won't be running to the theaters this weekend to catch the remake of the '80s cult classic "Footloose" starring Julianne Hough and Kenny Wormald, especially after enduring the film's TV commercial where a young moviegoer claims, "It's better than the original!" Oh, really? I prefer my Kevin Bacon. But I am super excited about Deborah Lippmann's latest nail polish collection that's inspired by the original film.
The celebrity manicurist, who admits to Stylelist that she would have loved to play the lead role of Ariel because of her fearless nature, has perfected two lines with each containing two eye-catching shades named for dance tunes. One set is comprised of Almost Paradise, a chartreuse crème that was inspired the Volkswagen Beetles in the two movies, and Footloose, a rebellious bright red crème influenced by the Ariel's red cowboy boots. The other duo is comprised of Let's Hear It For The Boy, a baby blue crème that channels the acid wash, light blue jeans from the '80s, and Dancing In The Sheets, a deep midnight purple shimmer, inspired by the big party scene where Bacon struts his stuff.
While all of these shades are on-trend for fall, Lippmann gave us the lowdown on how to wear each lacquer:
"Footloose is a red crème that can be worn year round. Its bright and happy with more yellow undertones than blue, but it is universally flattering and gorgeous on any skin tone. This shade will make you feel strong and sexy at the same time, so I think it's great for work or a date!"

"Let's Hear It for the Boy and Almost Paradise are crème shades that are fun to mix and match. I would wear one on my [finger] nails and the other on my toes. I have blue undertones, so I would probably wear Let's Hear It for the Boy on my hands, unless I was really going somewhere funky and edgy, then I might switch it up!"

"Dancing in the Sheets is dark and sexy, but definitely not black. I am wearing it now on my fingers and toes and I can't help but look and admire them, which I must say surprises even me! I am not your "typical" blue or purple nail lacquer wearer, but there are no rules anymore. Anyone can wear color -- nail lacquer is a fun, easy accessory and it definitely affects your mood when you look at your fingers."
What do you think about these "Footloose" nail polishes? Which color is your favorite?
Tell us your thoughts in the comments section and check out this Pamela Love-influenced nail art that remixes the classic French tip.
Deborah Lippmann Footloose Collection, $32 per set, available exclusively at HSN and hsn.com
BEFORE YOU GO