Yesterday Michelle Obama must have been thinking pink, as she donned not one but two rose-hued outfits.
The First Lady got down and dirty early in the day for a home renovation project, where she joined Jill Biden to put the final touches on a $100,000 renovation for a military family.
Retrofitted by the charity Heroes at Home, AP reports, the transformed home will help just one more American veteran (in fact, the organization's one thousandth) rebuild his life.
Said Obama addressing the gathered group, "Just think about what that new front door, that broader, wider front door means -- it's no longer an obstacle; the stairway that is no longer an adversary; the building that's no longer just a house, but it's now become a home."
For the task, FLOTUS and SLOTUS put on their stretchy pants and sneakers and got to work. Michelle wore black pants, a pink oxford button-down and snazzy blue sneakers. Jill opted for a seriously soft-looking gray "Army" tee paired with her black stretchy pants (suburban moms, take note).
After the project Michelle got cleaned up and put on a magenta and black Target dress in her favorite, sleeveless silhouette, which featured a sparkly black bow at the shoulder. Accompanied by Agriculture Secretary Tom Vilsack, the First Lady spoke on the White House South Lawn to honor schools.
Check out the First Lady's double dose of pink: which look works best for Michelle?
UPDATE: The First Lady also gave a roundtable interview yesterday, which Fabsugar attended. When asked about her fashion guidelines, Michelle said: "My motto is I have to feel good in it; I have to wear what I love. I try to be thoughtful about spreading the wealth: young designers. Mixing things up is important to me. But my day-to-day wardrobe choices are very practical." She added, "I don't buy it if I don't love it."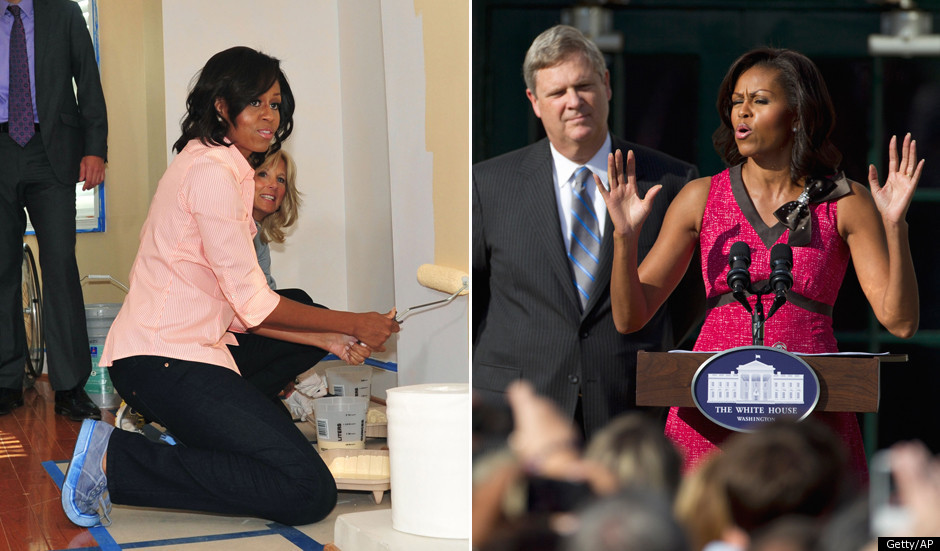 PHOTO GALLERY
Michelle Obama: 1 Day, 2 Outfits