Family vacations in Oklahoma City can be rewarding experiences or absolute disasters -- it all depends on pre-trip homework. To make planning easier, we've done all the preparation. As part of a Huffington Post Travel series on traveling with children, here are answers to some frequently asked questions about Oklahoma City family vacations.
Arbuckle Wilderness
Located just south of Oklahoma City on I-35, Arbuckle Wilderness is the largest exotic animal theme park in the state. The wildlife refuge offers everything from giraffes to longhorns to zebras, many willing to approach your car to get a bite to eat. There is also a children's petting zoo with a giant turtle for the kids to ride, as well as smaller animals all ready to eat out of your hands.
Address: Exit 51 off I-35, Davis, OK 73030
Phone: 580-369-3383
Hours: The park is open from September through May, 9 a.m. to 5 p.m. and June through August, 9 a.m. to 7 p.m. It is closed Thanksgiving and Christmas.
Price: Adults, $16.99; children 4 to 11, $14.99; seniors 55 and older, $15.99; disabled, $8.
Science Museum Oklahoma
Formerly known as the Omniplex, the Oklahoma Science Museum offers kids a chance to learn about physics, astronomy and biology in a fun atmosphere. The museum offers a large planetarium with daily shows discussing the universe and our place in it. The museum also includes a Dome Theater with multiple daily showings as well as multiple exhibits covering everything from technology to space exploration to environmental science.
Address: 2100 NE 52nd St, Oklahoma City, Oklahoma 73111
Phone: 405-602-6664
Hours: The museum is open Monday through Friday, 9 a.m. to 5 p.m., Saturday, 9 a.m. to 6 p.m. and Sunday, 11 a.m. to 6 p.m.
Price: For Museum Exhibits and Dome Theater, Children under 3 are free; children ages 4 to 12, $11.95; adults, $14.95; seniors 65 and older, $11.95.
Bricktown District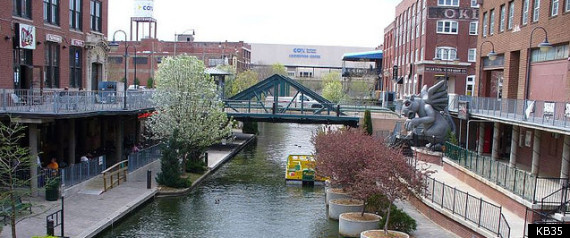 The Bricktown District in downtown Oklahoma City presents families with a plethora of entertaining things to do while on vacation. Families can take a boat ride through the running canal and learn about the history of the downtown Oklahoma City area. The district also has a movie theater, bowling alley, live musical performances, the Bricktown Ballpark and a number of great restaurants for a fun day out with the family.
Address: 120 E Sheridan, Oklahoma City, OK 73104
Phone: 405-236-4143
Hours: The hours vary but the curfew for anyone under 18 in the Bricktown District is 11 p.m.
Price: Free, although restaurants and events require individual charges.
White Water Bay
White Water Bay in Oklahoma City is the area's biggest water park. The park features six slide-rides including the heart pounding Mega-Wedgie, featuring a 277-feet-long and 64-feet-tall slide. For the kids, there is the chance to play in Kid's Cove, full of exotic creatures and a big submarine. The water park also offers musical guests and a weekly Dive-In movie theater.
Address: 3908 West Reno, Oklahoma City, OK 73107
Phone: 405-943-9687
Hours: The water park is open May through September. Times of operations vary. Park opens at 10:30 a.m. and closes between 6 p.m. and 8 p.m. When there is a Dive-In movie, the park remains open until 11 p.m.
Price: Guests 48 inches and taller, $24.99; guests under 48 inches, $19.99; children 3 and under, free
Sam Noble Oklahoma Museum of Natural History
The Sam Noble Oklahoma Museum of Natural History is located south of Oklahoma City in the college community of Norman, Oklahoma. The museum, run by the University of Oklahoma, offers families the chance to see dinosaur bones, discover the heritage of the Native Americans and, once a month, gather for Movie Night at the Museum. From giant Jurassic dinosaurs to lifelike renditions of the animals that once populated the Ozarks, there are discoveries for kids of all ages.
Address: 2401 Chautauqua Avenue, Norman, Oklahoma 73072
Phone: 405-325-4712
Hours: The museum is open Monday through Saturday, 10 a.m. to 5 p.m. and Sunday from 1 p.m. to 5 p.m.
Price: Adults, $5; seniors 65 and older, $4; children 6 to 17, $3; children 5 and under, free.
Oklahoma City National Memorial & Museum
On April 19, 1995, Oklahoma City was rocked when terrorists bombed the Federal Building in downtown Oklahoma City, killing 168 people. The Oklahoma City National Memorial & Museum stands in honor of those who died that day. There is an Outdoor Symbolic Memorial and Museum telling the story of that tragic day in Oklahoma's history as well as stories from the survivors and family members of the victims.
Address: 620 N. Harvey, Oklahoma City, OK, 73102
Phone: 405-235-3313
Hours: The museum is open Monday through Saturday from 9 a.m. to 6 p.m. and Sunday from noon to 6 p.m.
Price: Adults, $10; seniors 62 and older, $8; military, $8; students 6 to 17 (or college student with current ID), $8; children 5 and younger, free.
Medieval Fair
Norman, Oklahoma presents the large Medieval Fair every April. This free event offers families the chance to see live jousting and watch as knights and maidens walk freely through the park. You can also enjoy great food and shopping from local vendors offering the best in hand crafted memorabilia. Each year, there are over 200 arts and crafts booths and numerous events to enthrall everyone in the family.
Address: 2501 South Jenkins Avenue, Norman, OK 73072
Phone: 405-366-8095
Hours: The fair is open the first week of April from 10 a.m. to 7 p.m.
Price: Free.
What is your family's favorite Oklahoma City destination?