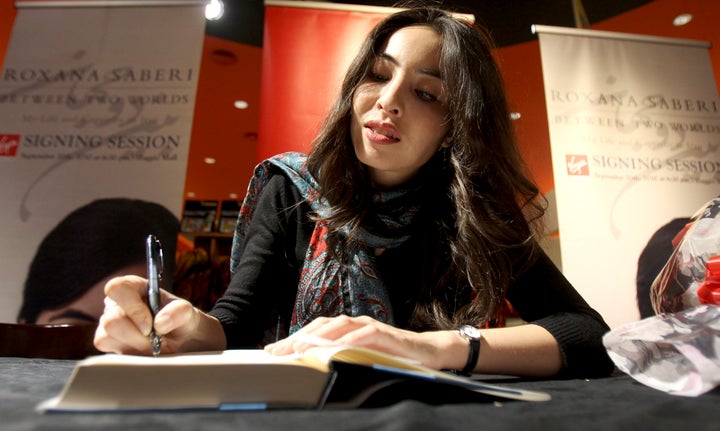 For 100 days, the Iranian government detained journalist Roxana Saberi, imprisoning her and accusing her of espionage. For up to several hours a day between January and May 2009, Saberi was interrogated by officials, sometimes while blindfolded. Two and a half months after her arrest, Saberi was sentenced to eight years in prison based on falsely concocted charges of espionage. Following international calls for her release from President Barack Obama, Secretary of State Hillary Clinton and the European Union, Saberi was freed after spending three and a half months in Iran's notorious Evin Prison.
Saberi, 34, who was born in New Jersey, raised in Fargo, N.D., and now lives in New York, comes back to Chicago, where she once studied, to speak at a free community event at 5:30 p.m. Wednesday on Northwestern University's downtown campus. Saberi, who authored a book last year about her experience in prison, "Between Two Worlds: My Life and Captivity in Iran" (HarperCollins), is the featured guest at Wednesday's Facing History and Ourselves' Community Conversations series, which is meant to spur dialogue about civic engagement, tolerance and collective responsibility.
In the midst of preparing for her trip to Chicago on Tuesday evening, Saberi took some time to answer our questions about her what got her through her imprisonment, what she learned from her cellmates, her thoughts on the recently freed American hikers and the potential for the Arab Spring to blossom in Iran.
You're appearing Wednesday night in a community event presented by Facing History and Ourselves. In what sense were your captive months in Iran part of modern history and how does that history continue to evolve?
I was just one of many prisoners who was unjustly incarcerated in Iran, and today, more than 500 Iranian prisoners of conscience remain behind bars. They are being punished for peacefully exercising universal human rights, such as the freedoms of expression and assembly. Their pursuit of these rights is part of a historical process in Iran, where a movement for democracy began more than a century ago. These people are also shaping the future of Iran. They are struggling so their friends, families, and future generations can write news articles without getting accused of anti-regime propaganda, hold peaceful rallies without being beaten up, and call for equal rights for women without being thrown in jail.
I was also one of a handful of Iranian Americans detained in recent years in Iran. I was fortunate that my ordeal attracted a great deal of media and international attention, which showed the growing power of the Internet as people in several countries spread the word about my detention and signed petitions on my behalf.
In light of your own experience, what are your thoughts on the two American hikers who were released last month from Iran?
I am delighted that Shane [Bauer] and Josh [Fattal] were finally freed and able to return to their families. They and Sarah Shourd [who was released last year after more than one year in Evin Prison, where Saberi was held] were detained much longer than I was (100 days). I hope their release can serve as an opportunity to remember the many prisoners of conscience who are unjustly jailed in Iran today, including journalists, bloggers, human rights defenders and student activists.
So much has been this year happening in formerly autocratic Arab countries; what are your thoughts on the Arab Spring?
I think it is a surprising, exciting and uncertain time. While the contexts differ, many protestors in the region have been pushing for many of the same goals: a better economy, a more transparent and accountable government, and the ability to shape their own destinies. I am saddened that violence has stained the Arab Spring, and I hope that democracy and human rights will prevail.
Could something like the Arab Spring ever take place in Iran? Why or why not? Why were the demonstrations a couple of years ago in Iran quashed so quickly and why haven't we seen a resurgence of those demonstrations?
Iranian authorities have said the Arab Spring was inspired by the 1979 Islamic Revolution, while supporters of Iran's Green Movement say their 2009 demonstrations motivated protestors in other countries. For now, many Iranians who want change (while they don't all agree on what kind of change they want, they agree that they don't want the status quo) have been scared into silence because of the force and brutality used against them, their friends, and their families. I wrote an op-ed referring to this back in February in the Chicago Tribune.
When the Green Movement tried to hold demonstrations in February in solidarity with protestors in Egypt and Tunisia, the Iranian authorities suppressed them. Since then, two of the movement's leaders, Mehdi Karroubi and Mir-Hossein Mousavi, have been under house arrest.
How did your cultural identity — your intersection of Iranian, Japanese and American heritage — inform the way you viewed Iran, both before, during and after your captivity?
I realized that just as my identity has many aspects, so does that of Iranians, who are a diverse and complex nation. This helped me understand that my captors did not represent the majority of the Iranian people, many of whom were nothing but kind and hospitable to me, inviting me to their homes for dinner, traveling with me around the country, and teaching me about my father's native land of Iran. I gained a better grasp of my Iranian identity while realizing the similarities we have across cultures. For these reasons, I still love Iran and hope that if the situation someday improves, I can return.
I think you had said you were never physically hurt while in captivity (correct me if I'm wrong); What kind of psychological abuse or harm did you suffer and what were the effects?
That's correct. I did not endure physical torture, although that does happen in Iran's prisons. I faced what is often referred to as "white torture," which does not leave a mark on the body but can devastate the mind and conscience. Many prisoners have suffered from this as I did, and worse. I was held in isolation (until I was later able to meet other women prisoners), unable to tell anyone where I was, denied access to an attorney for weeks, and threatened to make a "confession" that wasn't true.
If you could attribute your personal fortitude during your captivity to three things, what would they be?
I had many weak moments, especially at first, but I gradually gained fortitude through: faith, which gave me hope, direction, and purpose; my courageous cellmates, who taught me that true freedom is the freedom of one's conscience; and my family, friends, and strangers, who helped me realize I wasn't alone and that I didn't have to stand up to injustices by myself anymore.
What's your biggest takeaway from the time you spent in Iran?
This is difficult to summarize. One of the main lessons from the time I spent in Iran was that despite our differences, Iranians and Americans have many similarities. Most of us want the same things: a good education, material welfare, love, health, safety, and freedom. I saw that Iran is much more diverse than I initially imagined, and I think that to understand how to interact with another country, culture, or people, we must first go beyond our superficial understandings and appreciate both our common humanity and our diverse backgrounds...I think many Americans do understand this, but I'd like to remind them that many Iranians like the American people.
From prison, I saw the dark and bright sides of humanity (including my own). I learned the value of freedom, courage, and strength in adversity — timeless and universal lessons that my cellmates taught me through example. I also learned how important it is for those who have the ability to speak out to be a voice for the voiceless.
What can we do from Chicago to alter or change oppressive and unfair conditions or circumstances in Iran?
Each one of us can make a difference, whether we are in Chicago, Fargo (my hometown), or in New York City. If enough people speak out against injustices over a continuous period of time, they can make a positive impact. I have seen this in my case and in several others. There are decision makers in Iran's regime who are sensitive about public criticism of their human rights records. At the very least, those who are facing injustices will realize they are not alone.
Several petitions and other ways that we can help promote human rights in Iran are listed here.
Was your education at Northwestern University's Medill School of Journalism and time in Chicago of use to you in Iran?
Medill motivated me to learn more about people and to tell their stories, not to focus on just one person or group of people but the diverse people in every society, and to understand that there is always more than one side to every story. I am also extremely grateful for all the support that the Medill, Northwestern, and Chicago-area communities gave me while I was in prison in Iran. Their blogs, rallies, and work on a website calling for my freedom all helped pressure the Iranian authorities to release me.
What's next for you?
I'm working on another book that I was writing when I was in Iran. My captors claimed it was a "cover for espionage" because they said I interviewed too many Iranians for it to be simply a book. (Of course, it was just a book.) It is about the diverse people and groups in Iranian society: the little stories behind the big story of Iran. I have also been joining others to speak out for human rights in Iran, through talks and events, articles, and other advocacy work.
Facing History and Ourselves' Community Conversation with Roxana Saberi runs from 5:30 p.m. to 7 p.m. Wednesday, October 19 at Thorne Auditorium at Northwestern University's Chicago campus, 375 E. Chicago Ave. The event is free and open to the public, though an RSVP is requested.

BEFORE YOU GO