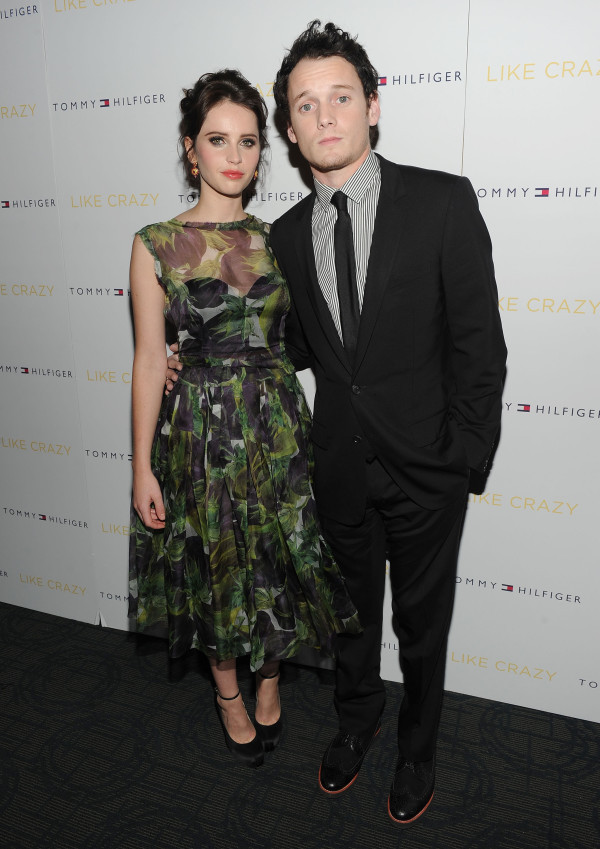 Getty Images
In Drake Doremus' new film, "Like Crazy," Felicity Jones plays Anna, the British girlfriend of Los Angeles student-turned-furniture designer Jacob (Anton Yelchin). The story, which is based on Doremus' real first love, follows Anna and Jacob's struggle to stay together, while forced to live 6,000 miles apart due to an impulsive decision to disregard visa laws.
The film starts when Anna and Jacob are students at a Los Angeles University – she, the writer, is speaking in front of the class while Jacob is sketching chair designs. Their characters evolve over the next few years, as does their relationship, when Anna is forced to return to England. She gets a job working for a fashion editor at an invented London magazine, while Jacob stays in Los Angeles running a successful furniture design company. Yelchin explains Jacob's character development as he continuously loses Anna. "We specifically plotted out Jacob's transitions every year from being one kind of person to another," he said at the film's premiere in New York, "He starts off very closed off, wearing a lot of button downs and jackets. And then he meets her, and she's the first person that he connects with, so he opens up to her and is able to kind of get looser. By the end, he's so exhausted, he doesn't give a shit so you see a total transition between the first person and the second."
Both Jones and Yelchin were vested in their characters, and even picked out their own costumes. "I loved Anna right at the beginning, " Jones said. Although the starlet wore Dolce & Gabbana to the film's Tommy Hilfiger-hosted screening, her character's choices were much more low-key: "We went to a vintage shop in Los Angeles and I went with the costume designer and we just picked out her whole costume for the first three years. It was so nice to be that hands on and be able to pick out that jacket and be like, 'This is perfect for Anna.'" She even wore Yelchin's own jacket in the film. He explained, "A lot of the clothes were mine -- just combined in different ways. Felicity's jacket on the poster is my jacket that I bought for five bucks at a Salvation Army in Australia. A lot of the clothing is ours. While Felicity went shopping for some of her clothing, I just went through my wardrobe and said, 'Alright, okay, wear this shirt with that sweater, that's him. Year one. This waffle shirt with shit on it is year six.'"
While shopping for your character might not have been fun for Yelchin, who admits, "I don't like to shop at all," Jones had a great time as she is an avid vintage shopper, "I think it's always important to have vintage items in your wardrobe. You want to mix it up." One of her favorite pieces is a vintage white silk shirt purchased at a thrift store near her University in the UK. Found with a friend, Jones admits, "I've still got it. Actually my friend and I both liked it so much that we each paid half of it, so we have to keep sharing. So it's moves between us, it's like a child."
Yelchin, on the other hand, might have confused spectators by wearing a sleek Christian Dior suit on the red carpet and to the after party at Sons and Essex as apparently everything he owns is from Target. "When I start a movie, especially on location, I go to Target. I buy a pack of Target socks, shirts, underwear and that's all I do." Apparently even his suit was found at the mass retailer, "It's very fancy-schmancy. I got it at Target. They sell it there. You've just gotta look." Wink.
Meanwhile, learn how to get Jones's super subtle makeup.
For more photos of the cast of "Like Crazy," take a peek in our gallery below:
PHOTO GALLERY
BEFORE YOU GO