Actors, writers and directors nostalgic for their drama school days have once again signed up for what sounds like a tortuous assignment -- to write and rehearse six plays in 24 hours. This ritual, known has "24 Hour Plays On Broadway," has been going on every year for 10 years to benefit the Urban Arts Partnership, which supports arts education in underserved public schools. When celebrities aren't involved, this collective project happens all year round, for young, aspiring thespians across the country.
But back to the celebrities. Who are our willing masochists this year? Among them are: Jesse Eisenberg, Megan Fox, Cheyenne Jackson, Julia Stiles, Sarah Silverman, Tracy Morgan, Woody Harrelson, Jason Biggs and Amber Tamblyn.
The actors, it seems, have the simpler task here -- they present their writers with a prop, and the writer is supposed to be inspired and write a play around it. Then, the actors and directors leave for a "restless night of sleep," while the writers stay up all night for an actually restless night and come up with a play. Luckily, our fearless crew has a solid group of writers to back them up, including Pulitzer Prize winners (David Lindsay-Abaire, Doug Wright, Lynn Nottage), a Tony Award winner (Terrence McNally) and an Emmy winner (Rachel Axler).
Here's the full breakdown of how the day plays out: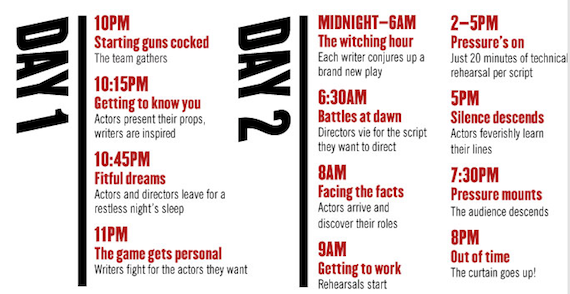 "24 Hour Plays On Broadway" will unfold on Nov. 14 at the American Airlines Theatre.
Watch Playbill's behind-the-scenes look at "24 Hour Plays On Broadway":