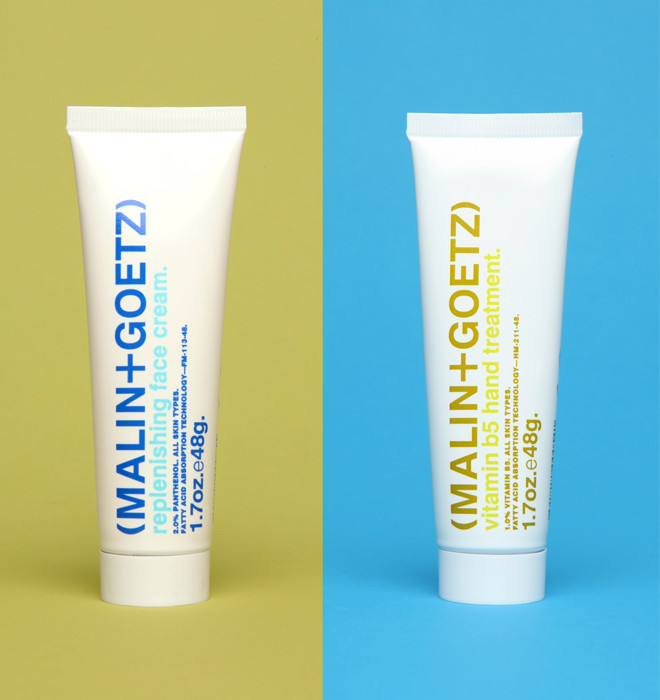 Photo: Bobby Doherty
It's officially dry hand/dry face/dry everything season. As soon as the temperature starts to drop, my hands instantly (and annoyingly) feel like sandpaper. The same with my face: everything needs a little extra hydration. But the only thing more irritating, I feel, is the super slicked-up, finger-print-leaving, greasy lotion effect. That is until I tried these two new creams from Malin+Goetz, the New York-based apothecary with a cult following and cool minimal, 70s packaging.
The Malin+Goetz Replenishing Face Cream -- which is loaded with vitamins (A, B, C and E), shea butter, avocado, jojoba and chamomile -- rejuvenates cell renewal, reduces irritation and evens out skin tone. And the ultra-hydrating formula also doubles up as a night cream. I love that it gives my skin a bit of a sheen, but without looking overly shiny -- just healthy.
The second half of this hydrating power couple is the Vitamin b5 Hand Treatment: the non-goopy, plant-based cream instantly moisturizes dry skin and softens cuticles. Plus it's got tons of antioxidants (more vitamins A, C and E) to help combat existing sun damage. (Your hands are the first place to show age, ladies.) And bonus: if you've misplaced your face cream, this guy multi-tasks as a face cream.