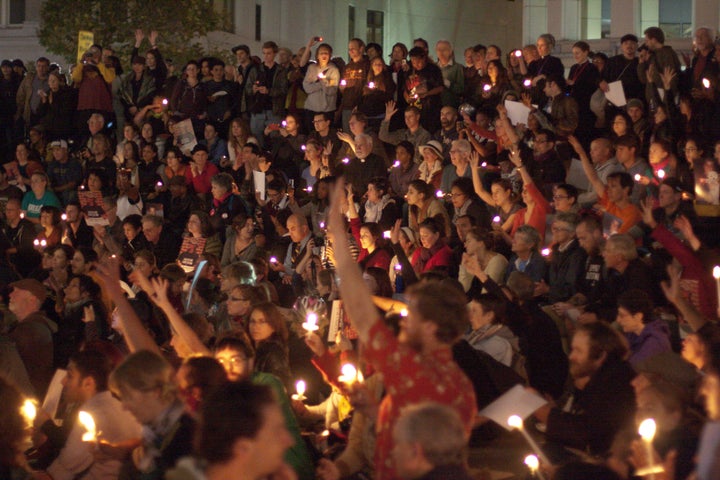 About 2,000 participants lit candles and held pictures of Olsen, while speakers, including members of Iraq Veterans Against the War, addressed the crowd.
(SCROLL DOWN FOR PHOTOS AND VIDEO)
Oakland Mayor Jean Quan, who has been aggressively trying to regain the city's trust since the incident on Tuesday, was also scheduled to speak, but, according to a statement from Quan, her 6 p.m. address was cancelled. "I had hoped to speak directly to you tonight," she wrote. "I was told that I could speak at the Speak Out at 6 p.m., but that was cancelled. So I apologize for providing these remarks in written form." She continued, explaining the she was "deeply saddened" by the incident. "When there's violence, there are no winners -- it polarizes us and opens old wounds rather than brings us together, which is the aim of Occupy Wall Street and uniting the 99 percent."
Later, Quan visited the plaza, but was booed upon arrival, and was mobbed by protesters chanting "go home," calling her a killer and screaming for her to step down. KTVU captured raw footage the protesters mobbing her as she arrived. (Click here for footage.)
Since Tuesday, Quan has reopened the plaza to the protesters, and visited Olsen in the hospital, apologizing and promising an investigation.
As of Thursday, the tent city was resurrected in Frank Ogawa Plaza, complete with a kitchen, electricity and a children's tent. "There were about 30 tents up and people were putting up more as I left," said Steve Leibel, a photographer who attended the vigil. Leibel was also present at the violent Tuesday night protest, where he was tear gassed. On Thursday, he took photos of the Tully's coffee shot at Broadway and 14th street, the epicenter of Tuesday's protest and "a downtown Oakland landmark that will never look the same to me," he said. "It was impossible to believe it was the same place as forty-eight hours ago."
Several other cities also held vigils for Olsen, in solidarity with Oakland. USA Today reported that several police officers attended the Las Vegas vigil. Protesters then invited them to the camp for a potluck dinner.
Meanwhile, Olsen has been at Oakland's Highland General Hospital since Tuesday night when he was struck in the head with a police projectile. Olsen suffered a fractured skull and brain swelling, but his condition has since improved. On Friday, Olsen was conscious, aware and able to write, but was still unable to speak. His parents, who flew to Oakland from Wisconsin, were by his side.
Olsen, a Marine, had served two tours in Iraq and was living in San Francisco at the time of the protest. According to USA Today, he was working as a network engineer and had an apartment overlooking the Bay, but had been camping at the Occupy San Francisco camp as a show of solidarity. Fellow veteran Josh Shepard, who was standing nearby when Olsen was injured called it a cruel irony that Olsen is fighting an injury in the country that he fought to protect.
See pictures and footage from the vigil at Occupy Oakland in the slideshow and video below: