Family vacations in Philadelphia can be rewarding experiences or absolute disasters -- it all depends on pre-trip homework. To make planning easier, we've done all the preparation. As part of a Huffington Post Travel series on traveling with children, here are recommended attractions for those planning Philadelphia family vacations.
Philadelphia Museum Of Art
The
Philadelphia Museum of Art
features more than 225,000 pieces in its vast collection, stretching back to the first century A.D. It includes items from Europe, the United States and the medieval era. Guests can discover modern art exhibits, clothing collections gathered throughout time, classical posters, embroidery and ceramics. Audio tours are also available.
Address: 26th Street and Benjamin Franklin Parkway, Philadelphia, PA 19130
Phone: 215-763-8100
Hours: The museum is open Tuesday through Sunday from 10 a.m. to 5 p.m. and Friday until 8:45 p.m.
Price: Museum members, free; adults, $16; seniors 65 and older, $14; students with valid ID, $12; children 13 to 18, $12; children 12 and under, free.
Please Touch Museum
The
Please Touch Museum
offers kids the chance to explore, discover and learn in a fun environment. The museum features six interactive zones where kids and parents are encouraged to play and learn about science, the environment and more. Exhibits include Flight Fantasy, where kids learn about flying machines, Roadside Attractions, where kids learn about cars and the rules of the road, and River Adventures, which teaches kids about science, nature and weather.
Address: 4231 Avenue of the Republic, Philadelphia, PA 19131
Phone: 215-581-3181
Hours: The museum is open Monday through Saturday from 9 a.m. to 5 p.m. and Sunday from 11 a.m. to 5 p.m.
Price: General admission, $15; museum members, free; children under the age of 1, free.
Franklin Institute
The
Franklin Institute
is Philadelphia's major science museum, and one of the oldest in the United States. There are many things to discover and do in the museum. The museum offers guests the chance to experience flight simulators and sky bikes. The first floor offers a large Kid Science exhibit, where children discover science through a fictional journey. The second floor features air shows, while the third includes Sir Isaac's Loft, where visitors can discover scientific facts that were proved through experiments.
Address: 222 N. 20th St., Philadelphia, PA 19103
Phone: 215-448-1200
Hours: The museum is open daily from 9:30 a.m. to 5 p.m.
Price: Adults 12 and older, $15.50; children 4 to 11, $12; seniors 62 and older and military, $14.50.
Rocky Statue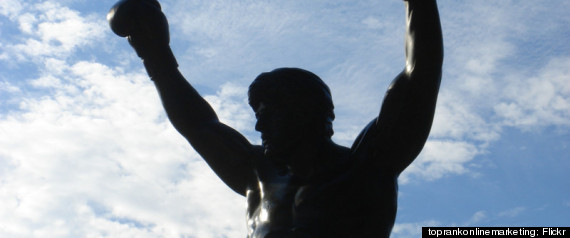 Thousands of movie fans have made the legendary run up the steps of the Philadelphia Museum of Art, replicating the trek that Rocky Balboa made in the classic movie "Rocky." This is one of the legendary stops in Philadelphia and now features a giant statue of Rocky, arms raised in victory.
Address: 26th Street and the Benjamin Franklin Parkway, Philadelphia, PA 19130
Phone: 215-763-8100
Hours: As an outdoor attraction, there are no official hours.
Price: Free.
Philadelphia Zoo
America's first zoo, The
Philadelphia Zoo
sits on a 42-acre Victorian garden. The zoo features 1,300 animals, including a number of rare and endangered species. While visiting the zoo families can see big cats, zebras, giraffes, rare primates, endangered turtle species and penguins. The zoo also includes rides for kids, such as a Rainforest Carousel, Camel Safari and a giant Zooballoon, a hot-air balloon that flies over the animals.
Address: 3400 W. Girard Ave., Philadelphia, PA 19104
Phone: 215-243-5347
Hours: The zoo is open March 1 through Oct. 31 daily from 9:30 a.m. to 5 p.m.
Price: Adults, $18; children 2 to 11, $15; children younger than 2, free.
U.S. Mint
The
U.S. Mint
offers free self-guided tours with no reservations necessary. While other U.S. Mint locations require background checks to gain admission, the one in Philadelphia is open for stress-free 45-minute tours. There are video stations throughout public areas, and exhibits set up to teach the history, coinage and current programs of the center. While touring, visitors can also witness the actual coining operations from 40 feet above the factory floor.
Address: 151 N. Independence Mall East, Philadelphia, PA 19106
Phone: 202-354-6800
Hours: The mint is open Monday through Friday from 9 a.m. to 4:30 p.m.
Price: Free.
Liberty Bell Center
The Liberty Bell Center houses the iconic Liberty Bell as well as the documents and graphic images that tell the story of this well-known part of U.S. history. While visiting the monument, there is the opportunity to see an X-ray of the inner bell, from the details of the crack to its inner workings. There are also exhibits tracking the bell's use in many promotions throughout history.
Address: 600 Chestnut St., Philadelphia, PA 19106
Phone: 215-965-2305
Hours: The center is open all year from 9 a.m. to 5 p.m., with extended hours in the summer.
Price: Free.
What are your family's favorite Philadelphia vacation spots?
Check out more FAMILY TRAVEL GUIDES.