Last week, Google announced that it would disable many of the social features previously offered within Reader to make room for Google+ features. True to its word, Google did just that.
On October 31, the web giant announced that it had revamped its news aggregation product, Google Reader. The service now features a cleaner user interface, plus deep integration with Google+, the search engine's social network.
According to a post in the Google Reader Blog, users who wish to friend or follow other users, share content or comment on items can do so by using Google Reader's newly baked-in Google+ features. Specifically, Google Reader has added "[t]he ability to +1 a feed item (replacing 'Like'), with an option to then share it with your circles on Google+ (replacing 'Share' and 'Share with Note')," per the blog post.
Check out Google Reader's slick new interface (below), courtesy of the Official Google Reader Blog.
LOOK:

The following screenshot (via the Official Google Reader Blog) shows off Google Reader's new social features: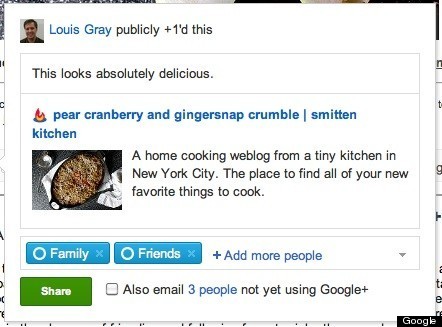 But not everyone's thrilled with the design changes. After Google announced the plans for its Reader product, users around the world rose up in arms before the changes were implemented. A small "Occupy Google Reader" protest was held outside the Google's D.C. offices. Mashable also notes that over 10,000 signatures grace a petition to keep the old version of Reader alive.
Outside the U.S., Iranian users are particularly concerned about the changes. Writes the Atlantic Wire, "pretty much every single social network was banned in Iran over the past couple of years, leaving Iranians without a free speech forum--except Google Reader. [...] Iranians are worried that Google+, which lives in a subdomain that could be more easily blocked, will suffer the same fate as the other social networks."
Indeed, Google has acknowledged that the streamlining of Reader may drive users away. In case you decide to jump ship, the Google Reader Blog points to a subscription export feature, letting you port your news preferences to another service .
What do you think of the new Google Reader? Weigh in via our QuickPoll (below), and share your thoughts in the comments.