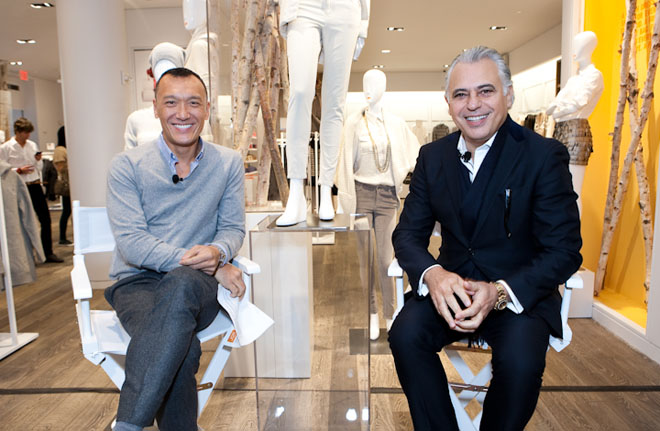 Long before Joe Zee was the creative director of ELLE, he began his career at the original Club Monaco store in his native hometown of Toronto. Fast forward 25 years later, Zee reunited with his "first fashion boss," Club Monaco founder Joe Mimram, to celebrate the launch of Canadian import Joe Fresh, which opened their first New York doors today. Zee reminisced about stumbling upon Club Monaco's 1980s iteration at age 17 and being struck that the shop was "just pulsating with energy."
And Mimram hopes that same upbeat vibe that appealed to Zee is equally present in his latest retail venture, which launched in 2006 and was initially sold at Canadian grocery store Loblaws. Joe Fresh has since expanded to more than 330 locations in Canada, where it's become a favorite for its on-trend offerings at wallet-friendly price points. When we visited the Fifth Avenue flagship, we were especially taken with its affordable cashmere sweaters ($69), cheerfully colored basics (silk shirts are $39) and whimsical pieces, like a tangerine-hued neoprene frock ($69).
"I hope that people see that there's a real idea behind what we're doing, and it's not just a bunch of clothes," he said. "The way the staff looks, the imaging, the fixturing, and the whiteness of the store against the color --hopefully it all communicates a brand essence that people want to shop."
We also wanted to know what every woman needs in her closet this season. "The wide-leg pant, the longer skirt and the sexy silk blouse," are Mimram's top recommendations. "The white shirt is a perennial, the neoprene coat, chunky knits," he continued. "The wonderful thing about fashion is that there are always 20 must-haves -- every season there's something fabulous to keep driving the business." But his number-one must-have is the turtleneck. "I'm telling you, you put it under any old thing, and all of a sudden you look right on," he says. "But it's got to be really slim. It's got to look clean and really modern."
As for how to wear the heady hues displayed in the store, Mimram advises, "It's great to either do a head-to-toe color look or to mix it. I love to see color with gray, and color with camel looks beautiful." He does, however, think pairing brights with black can be difficult to pull off.
And, of course, one burning question remains: How is fashion in the U.S different from Canadian style? Mimram says it's not. "I think fashion is international. Great concepts can transcend borders, and I think that's what's happened in the world of fashion," he told Zee. "But there are nuances. Canadians, for some reason, love sweatshirts."