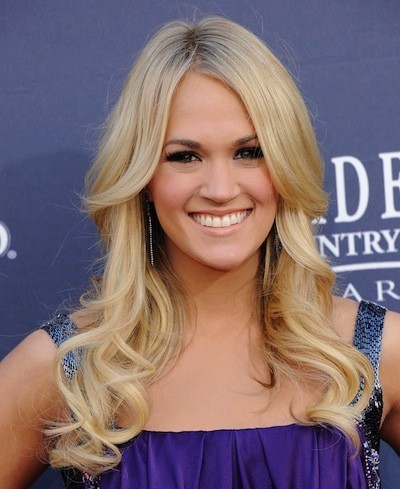 Photo: Getty
Ever wonder what inspired Carrie Underwood to pursue singing? Her advice for newlyweds? What her last meal would be? We put out the call on our Twitter and Facebook accounts, and these burning questions (among others) were what our readers wanted to know. The country singer (and Olay brand ambassador), who's busy prepping for her CMA hosting gig (alongside Brad Paisley) tomorrow on ABC, took time out of her busy schedule to sit down and talk about everything from what she's reading to being vegan to the people who inspire her songs.
Read on to see to Carrie's responses, then check out the singer's beauty evolution through the years.
Also: Be sure to tune into the CMAs tomorrow night to see Carrie's latest Olay campaign, but first you must watch the video spoof (below) she shot with Brad Paisley.
--

How's married life? Any advice for newlyweds?
Married life is great!  Mike is so supportive!  And I love to watch him play hockey!  It's fun to have someone in your life that is there for you no matter what.  We have fun together!  He's my Prince Charming! 

Whose music do you relate to the most? 
Well, obviously, my own!  Especially the songs that I write.  I choose songs based on how they make me feel...and then I hope there are enough people in the world who are like me that will like it too!  Writing makes the songs so much more personal.

Who inspired you to get into music? Why did you choose country music? 
 I just always sang.  People around me in my life seemed to like it.  It made my parents proud...that made me happy.  I grew up in Oklahoma, so country music was everywhere.  It is so relatable.  The songs are about real life -- your friends, family and neighbors.  Country songs tell the best stories!  There always seems to be so much talent in country music.  More talent, less hype.  To me, it's the purest form of music.  
 
When will your next album be available? Are you going to announce your 2012 tour anytime soon? 
There's no written-in-stone date to announce yet, but I would imagine I will be touring like a mad woman in 2012!

Any regrets? 
Of course everyone has regrets.  But I don't waste my time sitting around fretting over them.  Mistakes have to be made in order for us to learn.  So learn and move on.

What member of American Idol do you still stay in touch with? 
 David Cook is a good friend.  He's a great, talented guy!  Lauren Alaina is also one that I've been able to become friends with.  She's sweet and I'm glad that I'm able to be there for her if she ever needs anything.  I know that when I was new to the scene, it would have been nice to have someone who had gone through it all be there to show me the ropes!  I try to keep that in mind for the new batches of Idol contestants!
What are the beauty products you can't live without? 
I have to have my Olay Cleansing Cloths.  I have always had the worst problem taking make-up off at the end of the day.  These are a lifesaver!  I take them everywhere with me.  
 
What beauty advice/tricks have you learned from being on tour? 
It's fun and beneficial to play around with your look.  Try new things!  The only way to get good at hair and make-up is to play around and practice!  On days when I have extra time or even on days off, I still do it up and try a new thing or two that I've always wanted to try.

How does your skincare/beauty routine change when you're traveling/on tour? 
 It doesn't really change that much.  I try to keep things as uncomplicated as possible on a daily basis, so I don't need to trim down anything when I am on the road.
 
What are you reading now? 
"Defender of Faith - The Mike Fisher Story" ;)
 
Last movie you saw?
Around Halloween is my favorite time to turn off all the lights and watch scary movies (especially when Mike is gone on a road trip)! I couldn't tell you the last movie I saw in the theater, but I watch a ton at home.

What would your last meal be?
I'm a vegan now, but Sam and Ella's pizza (the Sunrise pizza to be exact) is awesome!  I used to work there in college and I swear it is the best pizza on the planet!  I'll have a large, please!