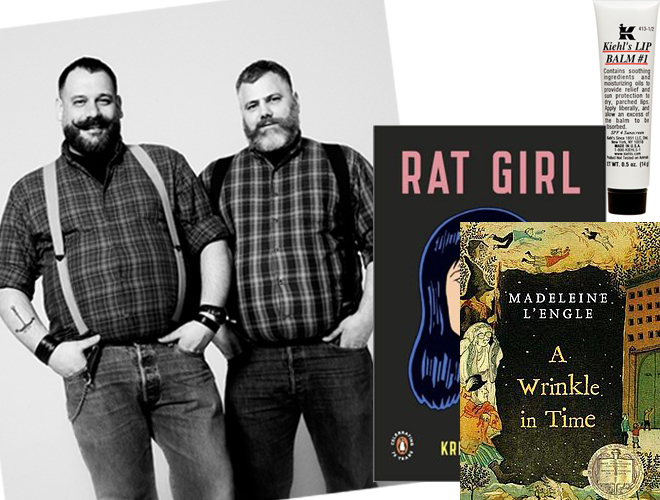 Photo: Nick Heavican
Jeffrey Costello and Robert Tagliapietra met at Parsons in 1994 and 10 years later created Costello Tagliapietra, a line known for its versatile, well-draped dresses. The design duo, who tied the knot just last month, told us what's been on their style radar lately.
If you could have one super power what would it be?
Robert: Invisibility.
Jeffrey: Telepathy.
What's the last album you downloaded?
Both: Vinyl Williams.
What's the last thing you bought that you loved?
Both: Our wedding bands from Tiffany & Co.
What was your first designer purchase?
Robert: A Todd Oldham hat.
Jeffrey: Pierre Cardin running shoes back in 1978.
Facebook or Twitter?
Both: Facebook.
What's your rule to dress by?
Both: Clothes should make you feel happy and confident.
What trend do you hope dies?
Both: Distressed denim, and also embellished flipflops.
What item do you wear every day?
Both: Suspenders.
If you had to wear clothes from one decade only, what would it be?
Both: 1960s science/math teacher.
What's on your nightstand?
Both: Clarks botanical and Kiehls lip balms, books, a painting by our pal Chris Bogia
and a lamp to read by.
What was your first job?
Robert: Weekend manager at the Oscar Wilde Bookshop.
Jeffrey: Salesboy at the Gap.
What's your signature scent?
Robert: Molinard Patchouli.
Jeffrey: Lavender.
What literary character would you be?
Both: Tom Bombadil in "Lord of the Rings."
Who would be your ideal shopping buddy of all time?
Robert: Me, I would rather get it done quickly and without guilt.
Jeffrey: Robert. He does all the work.
Last thing you read?
Robert: Reread "A Wrinkle In Time."
Jeffrey: "Rat Girl," by Kristin Hersh.
If you could only shop in one store for the rest of your life, what would it be?
Both: Does Doughnut Plant count?