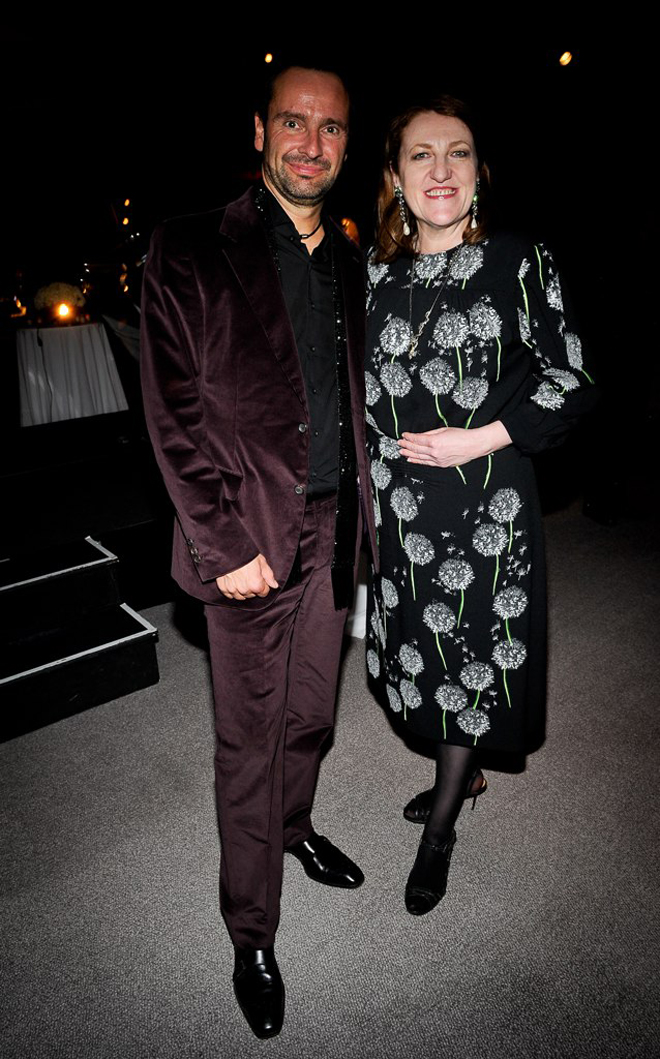 Kristen Somody Whalen
Tuesday night, Harper's Bazaar editor-in-chief Glenda Bailey joined Swarovski CEO Robert Buchbauer to celebrate the 20th anniversary of the Swarovski holiday ornament. In honor of the milestone, five artists -- Mark Boomershine, Christina Burch, Wojung Choi, Natasha Law, and Irina Volkonskii -- were commissioned to create original, crystal-embellished works (check out some of our favorites in the gallery below). The resulting pieces, which were unveiled at a fete on the Hearst Tower's 44th floor, will be auctioned to benefit The Art Of Elysium, a non-profit organization that invites actors, artists, and musicians to spend time with children fighting serious medical conditions. We caught up with Bailey to find out what's on her agenda this season.

What's your advice for throwing a successful holiday party?
It sounds like a crazy thing to say, but do remember to enjoy yourself. When you're planning your party, the last thing on your mind is "I'm going to have fun." It's all about looking after everybody. But, I think a successful party is when everybody's relaxed and having a laugh and enjoying the moment.

The holidays can be a make-or-break time for relationships. What's the best love advice you've gotten?
I'm in a very luxurious and wonderful position, because my beloved and I are still in the holding hands, kissy-kissy stage, and it's been about 35 years. So, I don't think I'm such an expert on talking about things that don't work.

And, what's the number-one career tip you'd offer?
Hard work, determination, focus and remember that "no" is the first point of negotiation.
What are you looking forward to most this season?
Resting, seeing all my friends and family and laughing a lot.
What's on your wish list this year?
A Lanvin dress -- it's from Resort, and it's gathered at the waist with long sleeves and openings around the neckline. It's modern-day Madame Gres seen through the eyes of Alber Elbaz, which makes it like the modern classic of tomorrow.

Bidding begins November 16--visit swarovskiauction.com for more information.
PHOTO GALLERY
BEFORE YOU GO