At the GOP debate in Detroit, Republican presidential nominee Rick Perry committed a memorable gaffe when he claimed that he would eliminate three government agencies and was only able to name two, totally brain-farting on the third (Read all about it and watch the cringe-inducing video of Perry's flub here).
Now, the day after, the local guide Yelp is mocking this political brain-fart in their iOS app update.
"There are three types of bugs that are now gone," the update says: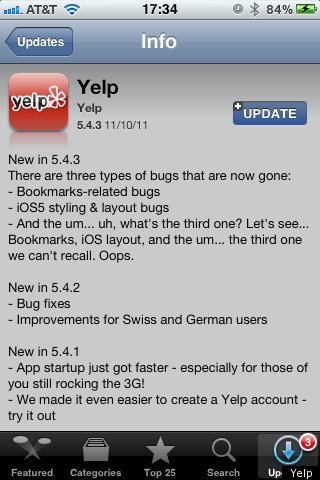 After Perry's flub, the Twitterverse exploded with mockery and sarcasm as the Texas governor sought to do damage control; now Yelp has gotten into the fray with a Perry poke of its own.
The Yelp app is available for download in the iTunes store here and is also available for Android, Windows Phone, BlackBerry and on your desktop. Interestingly enough, Rick Perry also has his own Yelp page in Austin, Texas, which you can view here.
Check out all the best Twitter reactions to the Perry memory lapse below:
PHOTO GALLERY
Perry Twitter reaction