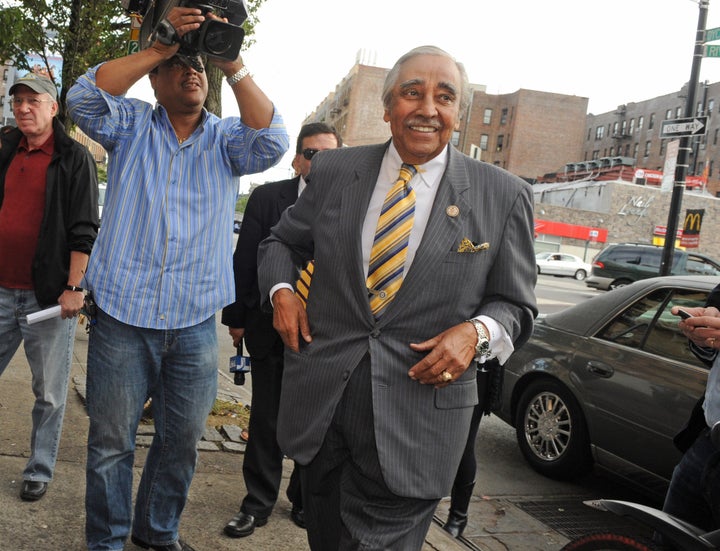 HARLEM, N.Y. -- When Clyde Williams was growing up in Washington, D.C., he'd ride past the White House on a city bus and wonder what went on behind its stark white walls.
He and his family never lived in deep poverty, he said — his mother worked a number of jobs to make sure they didn't — but few from his neighborhood, more focused on their survival, ever paid much attention to the White House, let alone dreamed it possible to make it inside.
Years later, Williams would not only make it within those white walls, but at the pleasure of Presidents Bill Clinton and Barack Obama. He was an adviser to President Clinton and later the national political director of the Democratic National Committee under President Obama. It was in the White House's Situation Room where he met his wife, Mona Sutphen, an aide to Clinton and later Obama's deputy chief of staff. (She would be the first African American to hold that position.) The two became one of the most powerful couples in Washington.
One of his greatest memories was putting his mother, who has since died, in a presidential motorcade streaming through the streets of New York City several years ago.
"She loved the idea that I got to do things and see things in a way she didn't," said Williams, 49, on a recent afternoon in a sitting room in his family's home in Harlem, which he shares with his wife and two children, ages 7 and 4. "And my life has surpassed anything that I could have ever thought it would be."
But so far, one opportunity has been missing from his 20-year political career: a run for elected office. And that might change, as Williams is mulling a 2012 bid for Congress — specifically the seat for Harlem's 15th Congressional District.
The heavily Democratic district covers Harlem, parts of the Upper West Side, Washington Heights and swaths of the Bronx and Queens. And it happens to be the seat currently held by the beloved, if not beleaguered, Rep. Charlie Rangel, the 40-plus-year incumbent. Since its creation in 1944, the district has had only two congressmen: Adam Clayton Powell Jr. and Rangel.
But Rangel's diminished political stature, and to some degree his age of 81, may have weakened his grip on the district. A House ethics committee found him guilty in 2010 of numerous ethical violations and he was eventually censured. Still, he easily won reelection that same year, an indication of his political power, however fractured.
There's been speculation that Rangel may consider retirement at the end of his current term, and that Harlem Assemblymen Keith L.T. Wright may be his handpicked successor. But as early as last year, as Rangel prepared for the 2010 congressional election, he showed no signs that he was ready to relinquish his seat.
"There is a line of succession, a very long line and a lot of people are on it," Bob Liff, Rangel's spokesman, said at the time. "It's heresy to ever acknowledge that we even talk of this. But there never has been a clear line. I don't think he has groomed a successor. He's not looking to leave, and especially not now."
Although Rangel seems politically weakened, he remains beloved and revered as a Harlem institution by long-time residents. Williams said he has a great deal of respect for the congressman and has nothing negative to say.
But he allowed that perhaps the time has come for fresh political ideas and perspectives. Williams recently formed an exploratory committee, hired a pollster and to date has raised about $50,000.
On a recent afternoon, Williams bounced between phone calls with old friends, some of them undoubtedly prospective donors, and the latest political headlines streaming across a muted television set glowing high on a wall in his sitting room. He strode in and out of the room, his attention shifting between his constantly buzzing cell phone, a reporter's questions and the screen.
Williams could be a formidable candidate, with his political connections and the clout that comes with them, according to some who follow politics in Harlem.
"I don't ever want to say that this congressional district has lacked any kind of leadership," Williams said. "I think that congressman Rangel has been effective, but I do believe there comes a time when you do need new energy and new ideas to continue to build on some of the things that have taken place over the last few years."
Harlem over the past decade or so has gone through tremendous change.
On a recent afternoon, a line gathered outside of a church across the street from Williams' apartment. The line, halfway down the block, was filled mostly with older men and women, with a few children here and there, who waited patiently as men unloaded crates of cauliflower, carrots and other perishables from the back of truck parked at the corner.
It's like that every Friday, Williams said. The hungry and unemployed line up for free food. The scene is representative of the district's economic contradictions: abysmally high unemployment rates, a widening gap between the rich and poor, waves of prosperity breaking against islands of poverty.
Million-dollar condominiums, fancy boutiques and coffee shops have sprouted along once-tattered strips, up and down Lenox Avenue and Adam Clayton Powell Jr. Boulevard. Where neighborhood mom-and-pop shops, soul food joints and other small businesses owned or operated by local business people once dominated, a wave of new residents (many of them young, educated and, some of them, white) and the economic interests that follow in their wake have changed the cultural landscape.
According to some estimates gleaned from the 2010 U.S. Census, the district's black population has shrunk by nearly 14 percent, while the white population has increased by 81 percent. Hispanics make up 46 percent of the district's population, African Americans make up 26 percent and whites 21 percent.
"It is extremely important that the people who have lived in this community for a very long time also benefit from the growth and development we are seeing," Williams said. "They should be a part of that. They should not be displaced because of it, and I think on some level that there weren't safeguards put in place to make certain that they were part of this process and enjoy this growth and development."
But the political lanes are worn deep in Harlem, where the legendary Gang of Four — Percy Sutton, an attorney for Malcolm X and one-time Manhattan borough president; former Mayor David Dinkins; Basil Paterson, the father of David Paterson, the state's first black governor, and Rangel — have long held sway.
One long-time business owner in Harlem, who has known Williams for several years called him "a great human being, a great family man" and a "young business man that has the opportunity to really be a leader." But until Rangel steps down, his allegiance remains with the congressman.
"I don't want to get in the middle of anything, because I love both of them," he said, requesting anonymity because he respects both men and would like to give them a chance to make a decision about running or not.

Williams has gone out of his way to remain respectful of Rangel.
"Anybody who has given 40 years of their life to public service should be respected," Williams said. "Anyone who goes to fight in a war when their country calls them, as he did in the Korean War, deserves a great deal of respect. But at the end of the day, I don't think this election is about me, him or anybody else that is running. It's about trying to improve our country, trying to improve New York State, New York City and the community."
Williams moved to Harlem in 2001 with his wife to serve as the domestic policy adviser to President Clinton and his Clinton Foundation. When they had chances to work for Obama, they moved back to Washington. But the allure of Harlem had never faded, and when the Williamses decided to leave the political bubble of Washington, they returned to Harlem.
"I feel at home here," he said.
BEFORE YOU GO