After the eviction of protesters from Zuccotti Park Tuesday morning, there were reports that 5,554 books from the Occupy Wall Street Library had been thrown away by Department of Sanitation officials. A public uproar ensued, prompting the Mayor's office to tweet this picture of the books, which they claimed were "safely stored @ 57th St Sanit Garage" and could be picked up Wednesday.
It remains unclear if the DSNY went dumpster-diving to recover the library after seemingly every online media outlet grabbed the story. Protesters said they saw DSNY officials throw books into a dumpster, whereas the Mayor's office told The Huffington Post Tuesday that the books were put into sanitation trucks (this is the problem when you don't let the press cover a major event).
Some of the library workers made the trek to midtown Wednesday to reclaim their collection and were disappointed with what they found. According to The Occupy Wall Street Library blog, "There are only about 25 boxes of books; many of the books are destroyed. Laptops here but destroyed. Can't find tent or shelves."
The livid librarians called out Mayor Bloomberg: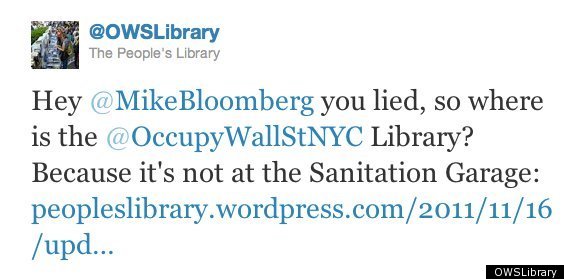 And they've compiled a list (see below) of all the items missing. We've reached out to the Department of Sanitation and the Mayor's office for comment and we'll update as soon as we hear back.
PEOPLE'S LIBRARY MISSING ITEMS LIST

Between 2,000 and 4,000 books (we'll know if it looks right when we see it ), this includes five boxes of "Reference" materials many of which were autographed by the author

Our custom made "OWS library stamps"

5 (4?) laptop computers;
Our wifi device
Miscellaneous paper supplies

A round portable table

A rectangular portable table

6 metal shelves (five of which had been set up in two pieces)

Three sets of wooden drawers

A periodicals spinning rack

Approximately 60 plastic tubs/bins of varying sizes most small, but several big

Archival materials (I was starting to collect some stuff in the library)

Posters (including many original posters created by OWS participants)

Two lamps

Four solar lights

7 (or so) chairs

A wooden dinner table (that was our's right?)

Periodicals/newspapers/zines (not counted in our book total)

Our awesome tent

Signage

Personal belongings of librarians