Jeremy Fish is known for his intricate, fantasy-inspired juxtapositions of life and death, but lately, the artists has been expanding his repertoire to include media not typically included in the street art genre.
Fish's latest show with Kenichi Yokono, "Rise of The Undeground" at Mark Moore Gallery finds the artists filling an old-fashioned medium with their complicated psyches.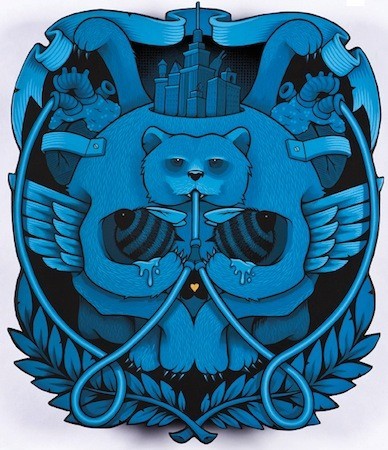 Jeremy Fish / Bare Hugs, 2011 / acrylic on wood / 24 x 20 inches
Using woodcutting to capture an old-world aesthetic, Fish gives his subtle, gloomy narratives a new life by invigorating them with the feeling of a place long forgotten. The natural world is fused together with drudgeries of the modern day, emphasizing not only Fish's distinct subject matter, but also his personal mythology as a sort of urban minstrel, spreading the gospel of imagination.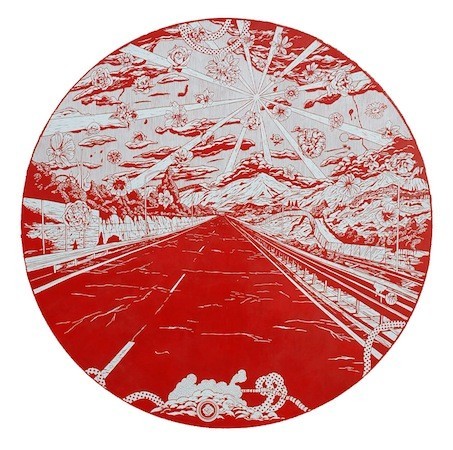 Kenichi Yokono / Falling Flowers Road, 2011 / carved wood and enamel / 59.06 x 59.06 inches
Yokono's work centers on the sadness that invades our everyday life, depicting common scenes with touches of the macabre. Elements of nature appear, yet their intentions are unclear. On one hand, they provide closure and comfort in an overwhelming world and on the other, a sly attempt to reclaim life in the absence of purpose is detected.
"Rise of the Underground" featuring Jeremy Fish and Kenichi Yokono will be on display at Mark Moore Gallery until December 17th, 2011
PHOTO GALLERY
BEFORE YOU GO
Rise of the Underground: Featuring Jeremy Fish and Kenichi Yokono
PHOTO GALLERY
Rise of the Underground: Featuring Jeremy Fish and Kenichi Yokono