An upcoming documentary, 'Art as a Weapon,' will allow viewers access into the closed country of Burma, and illuminate the intersection of street art, Buddhism and democracy. The project, spearheaded by director Jeff Durkin, began when he witnessed Shepard Fairey painting a 30 ft. mural of a Buddhist monk in his hometown of San Diego. The mural intimately enmeshed three distinct notions: religion, human rights and art. From there, Durkin embarked on his journey to explore the overlap of these three staples of human existence, using Burma as a case study.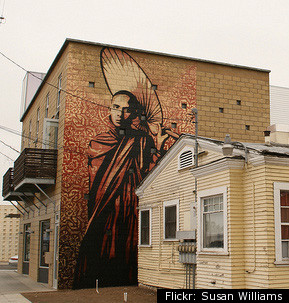 The film's plot thickened when Durkin received word that Nobel Peace Prize winner and former Burmese political prisoner Aung San Suu Kyi's was being released from house arrest and would make her first phone call to the US to a group of UC Berkeley students, a phone call which Durkin had the opportunity to record. The fortuitous overlap of these seemingly disparate events perfectly embodies the spirit and purpose of the film.
Art as a Weapon Documentary // Beginnings from BREADTRUCK TV on Vimeo.
The documentary will portray "the lives of Burmese school children learning how to use spray paint, Buddhist monks who write poetry, and street artist Shepard Fairey creating a three-story mural in support of Burma." The search for truth takes three different manifestations which all allow for non-violent resistance to oppression.
Durkin has enacted a Kickstarter campaign to raise the necessary funds to send filmmakers to the Thai/Burma border. Those who donate will also have a creative role in the film, through suggesting interviews and watching rough cuts.
BEFORE YOU GO