Black Friday: It's one of the biggest shopping days of the year -- famous for long lines, huge deals and shopper stampedes. And this year, even in a down economy, shoppers are expected to show up in droves.
The National Retail Federation estimates that the number of shoppers hitting stores the day after Thanksgiving will be up 10 percent from last year. And retailers are getting more competitive to get them to their stores. Electronic store officials say they're going to be "playing offense" to get consumers to spend on TVs. Some retailers are offering bottom barrel prices on hot video games to lure shoppers.
Others are maximizing the number of hours they'll have shoppers wandering their aisles. Target, Macy's and Best Buy are all opening their stores at midnight, while Toys R Us and Walmart, the nation's largest retailer, will be inviting deal-seekers inside late on Thanksgiving Day.
Some say the store openings may be getting too early, including employees at Target and Best Buy, who have launched online petitions asking the stores not to open at midnight on Black Friday so workers can stay home with their families on Thanksgiving. Even many Black Friday traditionalists say they're staying away because the openings are cutting too much into their own Thanksgivings, according to The New York Times.
The early openings and huge discounts may not be enough to get those consumers concerned about the economy into stores. More than 60 percent of Americans say they expect the economy to influence their holiday shopping this year, a survey from the NRF found. Consumers barely boosted spending in October, according to the Commerce Department, indicating holiday shopping may be slow.
Regardless the atmosphere at malls and big box stores across the country is sure to be hectic on Black Friday, so check out our liveblog to get a round up of the latest Black Friday deals, news and stampedes.
11/25/2011 4:12 PM EST
The Surprise High-End Black Friday Item At Sears...
The lines outside Sears' 900-plus stores today ranged from about 100 to 600 bargain-hungry shoppers -- longer than last year's, Tom Aiello, divisional vice president of media relations, tells DailyFinance.
While it's too early to tell why more people seem to have been waiting for the retailer to swing open its doors at 4 a.m., Aiello suspects more shoppers participated in Sears' buy-online-pickup-in-store program this year.
Save for the doorbusters, the retailer put all its Black Friday sales and inventory online at midnight on Thanksgiving. After that, "we started to see spikes on our mobile site," Aiello says.
So the long lines could very well have included many shoppers who had already made a purchase on Sears.com, and just "showed up for a merchandise pickup," he says.
"What's interesting is that we got a lot of questions and concerns about us opening at 4 a.m. when other retailers were opening at midnight or earlier." So far, it's turned out to be a non-issue, he says.
"A lot of people showed up saying they'd come from other retailers. It seemingly helped us to get longer lines."
What's more, "price transparency works in our favor," he says, noting the increase in shoppers who tap price comparison apps to find the lowest price on an item.
One shopper who'd been searching in the wee hours of the morning for the Playstation 3 Holiday Bundle Gaming Console, and finally found one at Sears for $199 (down from $219), "gave our Sears associate a big hug."
As for what's been selling at the chain, in consumer electronics, "two years ago it was the GPS, a year ago it was LED TVs, and this year we're seeing tablets as one of the breakout products," Aiello says. One hot seller at Sears: The Sylvania tablet for $79.
On surprise big seller at the chain, which largely caters to cash-strapped shoppers: the Motovox Gas Mini bike for $250, down from $399. "I didn't expect that – it's a little more expensive than the average gift," Aiello says. --Barbara Thau, Daily Finance
11/25/2011 4:05 PM EST
Missed Thanksgiving For $200 Flatscreens In South Carolina
The most dedicated Black Friday shoppers in N. Charleston, South Carolina were those camped out in front of the Best Buy by Northwoods Mall last night -- all to score the 42-inch Sharp HDTV for $200.
Bleys Prescott, age 20, doesn't have family in the area -- he's been in the Navy for 6 months and lives on the nearby base. He got to Best Buy at 6 a.m. on Wednesday morning. "Some friends of mine from the base brought me dinner today," he said. "It's been fun. Everyone in the front of the line has been hanging out here overnight."
One of the people he met was Byron Lynch, age 34, who didn't camp out but came regularly to the line to bring his girlfriend food. Wednesday night, the couple pulled their car up to the front of Best Buy and slept in it.
"Everyone calls us crazy," said Sebastian Burton-Austrom, age 17, who was in front of Lynch and Prescott. "All day people drove by and shouted at us."
"They'll talk up until the last hour when we get all the good stuff," he added with a chuckle.
Burton-Austrom, who lives with his parents and has a job as a host at Senor Tequila, slept directly on the concrete sidewalk Wednesday night. He says he's been saving all year long for a Sharp TV and HP desktop computer.
"I'll spend around $1,000 tonight," he said. "I've been here 30 hours, and I'm not working today. But in the end I end up saving money."
"This is the day to shop," said Burton-Austrom's companion, Seth Hollibaugh, age 18. "Then you save up all year for the next Black Friday." --Alice Hines, The Huffington Post
11/25/2011 3:30 PM EST
In New York, Shoppers Scoop Up Shearling Slippers
NEW YORK - On Manhattan's Upper West Side, the shops were open by 10 a.m. on Black Friday. Yet the flow of foot traffic was thin for the most part, with two exceptions: the Ugg store doing brief business in shearling slippers and the Apple store, where staff and customers were milling about in equal numbers. The store's one-day discounts included $41-$61 off iPad 2s and $101 off laptops.
While some shopped for slippers and laptops, it appears many others just stayed in them. Data on Friday from PayPal reported a 511% increase in global mobile payment volume on Thursday when compared to Thanksgiving 2010, with the highest number of mobile purchases made in New York City, followed by Houston, Los Angeles, Miami and Chicago.
By early afternoon at The Shops at Time Warner Center at Columbus Circle -- one of the few true shopping malls in Manhattan -- shoppers were picking up deals from J. Crew, like 25% off total sales of more than $150, and Sephora, where a $10 table saw eager attention. A lounge sponsored by MasterCard serving free beverages and WiFi was only half-full. Yet it could have been any other weekend. The sales clerk at J.Crew said she anticipated more shoppers arriving in the late afternoon. --Catherine New, The Huffington Post
11/25/2011 2:07 PM EST
Walmart Slapdown, Toddler Chaos And More Updates From Cedar Falls
One Cedar Falls Patch reporter made the rounds at local malls and reports on the shopping frenzy:
In Rue21, a couple actually left their baby in a stroller in the front of the store. An employee discovered the infant when she heard it crying and held the baby behind the counter to wait for mall security to arrive.

As many of us stood there in disbelief, the father of the child came and took the baby from the employee without saying a word and continued shopping with his wife. I had seen this couple trying on coats about 20 minutes prior to the incident. I hope they found a really good one.

In the Buckle, I saw another empty stroller at the front of the store. I started looking around and eventually saw the toddler running around that belonged to it… straight into the jewelry display case. The child continued to lie on the ground chewing on a wooden hanger. The father of the child eventually came to see how his son was doing and was later joined by the couple from Rue21 – I guess they were friends.

One question – what are these kids doing up in the wee hours of the morning anyway? I'm pretty sure the last thing they want to do at 3 a.m. is hold Mommy's shopping bags.
11/25/2011 1:39 PM EST
Big Day For Online Shopping
Despite the frantic shopping scene in many of America's brick-and-mortar stores today, a big chunk of consumers have opted out of the madness: It's shaping up to be a big Black Friday for online shopping. According to preliminary figures, online retail sales are up 18% from the same time period over Black Friday 2010, according to Coremetrics, IBM's marketing technology division. --Barbara Thau, Daily Finance
11/25/2011 1:08 PM EST
Shoppers Lined Up At 6 p.m. On Thanksgiving At Holbrook, NY Toys R Us
Shoppers looking for toy deals began lining up at the Toys R Us in Holbrook, New York at 6 p.m. for the store's opening at 9 p.m., Patch reports:
Dozens of eager shoppers, sated from their holiday feasts, queued up outside Toys "R" Us in Holbrook. Some customers waited from as early as 6 p.m. to get first crack at the more than $12,500 in savings, including doorbusters, advertised in the Thanksgiving weekend circular.

Many like Elsie Delaney, 65, from Medford came down grudgingly as the doors opened.

"You are losing something, family time. We had a big discussion at dinnertime, but we're still here. Where is the sense of family?," said Delaney. "This is really the only holiday that doesn't have a formal denomination ... a holiday where everyone should [be with] family."
11/25/2011 12:51 PM EST
Black Friday Tradition In Westchester
Shoppers were out early at one Westchester, New York mall. Patch has the story.
11/25/2011 12:46 PM EST
How The Stock Market Did On Black Friday
Black Friday couldn't bolster stocks as persistant European fears sapped gains, according to Forbes.
11/25/2011 12:42 PM EST
Shoppers Swarm Upper West Side Apple Store
An Upper West Side, New York City Apple store was packed at about 12:15 p.m., HuffPost's Catherine New reports.
The staff to customer ratio at the store looked to be about 1-to-1 and one day deals featured in Apple's gift guide include $41 to $61 off of iPads $101 off of laptops and $11 off of iPod nanos.
Check out a photo from HuffPost's Catherine New: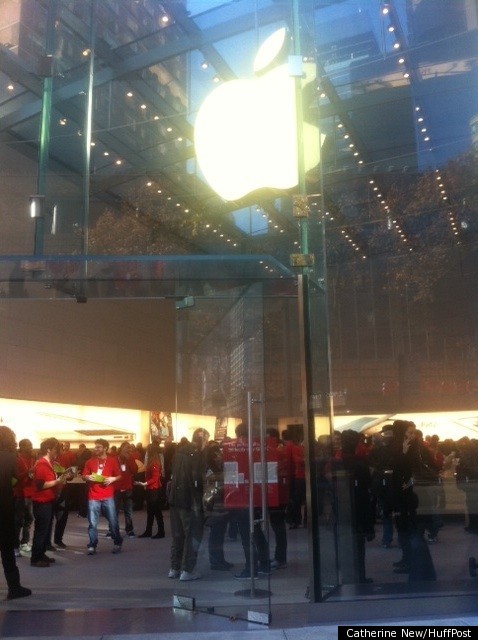 BEFORE YOU GO
A round-up of the best Black Friday deals in the country:
PHOTO GALLERY
Black Friday Plans From 13 Big Retailers