Facebook will be serving up more ads in more places thanks to its latest change.
The social networking service has introduced "Sponsored Stories," a.k.a. advertisements, in the ticker module that appears at the top right-hand side of users' home pages.
The ticker, unveiled in September, presents a feed of the actions your Facebook friends have taken on the site, such as "liking" a friend's status update, commenting on a photo or accepting a friend request. Users' activity on third-party apps, like music-streaming service Spotify, also feeds into the ticker, which for many has become a distracting jumble of all the songs their friends have listened to, all the articles they've read and all the minute actions they've taken on the site.
A Facebook spokeswoman confirmed that Facebook has launched two types of advertisements -- "Page Like" and "App Used/Game Played" Sponsored Stories -- that will be showcased in the ticker. For example, a Sponsored Story in the ticker might highlight that a friend has "liked" Heineken's Facebook page. (See screenshot below)
"Sponsored Stories are an extension of News Feed, so we think it's natural that they appear in Ticker," the spokeswoman told the Huffington Post.
Facebook wants to make sure its users see the ads, but not so many that it becomes an annoyance. The Facebook spokeswoman noted that "up to 10 percent (1 out of 10)" stories in the ticker could be ads.
People with more activity in their tickers will see the advertisements for less time.
​"Sponsored Stories will move through ticker at the same pace as organic stories. This is determined by the level of activity in each user's ticker and will vary," the Facebook spokeswoman noted.
Like so many Facebook updates, the Facebook ticker ticked off many users when it launched and critics haven't piped down. The latest update may do little to endear the new feature. What do you think of the new ticker and Facebook's "frictionless" sharing? Let us know in the comments below.
LOOK: Check out a screenshot of how Sponsored Stories might appear in the ticker: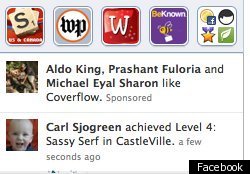 BEFORE YOU GO