OK, the ASA needs to cool it.
We were on board when UK's Advertising Standards Authority banned the presence of racy ads near elementary schools. We understood when the agency put the kibosh on these clothing ads featuring a super skinny, anorexic-looking model.
But banning this Hailee Steinfeld Miu Miu ad? We just don't get it.
According to the Telegraph, UK's heavy-handed advertising watchdog deemed the adorable Miu Miu spot "irresponsible" for featuring a child sitting in "an unsafe location" i.e. railroad tracks.
Um, what?
The Bruce Weber-lensed campaign, which debuted in July, shows 14-year-old Hailee goofing around outside -- lying in the grass, standing on some rocks and, yes, chilling out on some rail road tracks.
But we're pretty sure those are abandoned, out-of-service tracks... and that the ad is fake. Make-believe. Pretend.
Someone should tell the ASA that a fashionable little girl did not just wander unwittingly onto the tracks, not realizing that a train might come and kill her. She sat down, posed and then got up and left. And we are almost 100 percent sure that in doing so, she did not encourage other 14-year-olds to go play on train tracks.
But hey, maybe we're not taking this thing seriously enough. What do you think: is showing a kid posing on train tracks dangerous?
While you are contemplating the absurdity of it all, peruse the rest of Hailee's Miu Miu campaign below. Isn't she precious?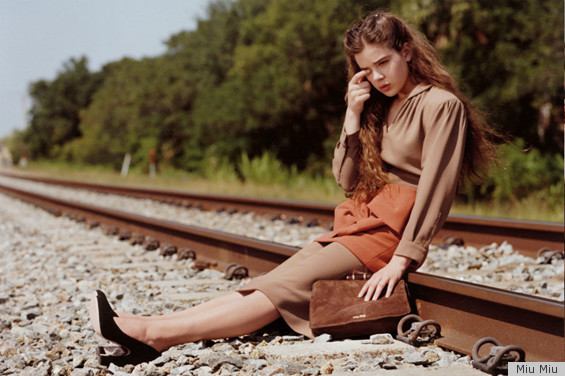 PHOTO GALLERY
Hailee Steinfeld For Miu Miu(CLONED)