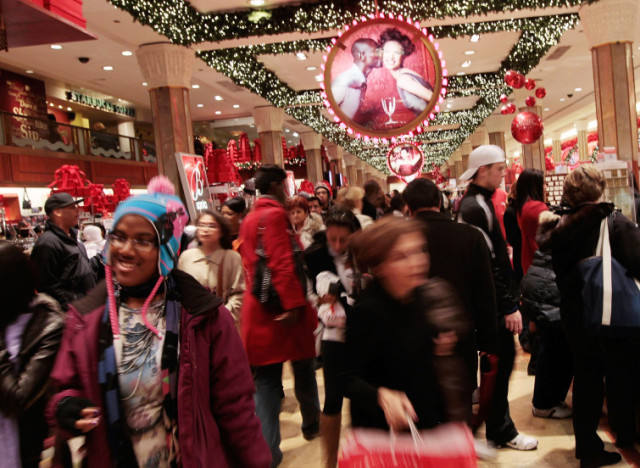 Getty Images
Black Friday can be intimidating to amateur and professional shoppers, alike. If you are planning to partake in this year's post-Thanksgiving shopping extravaganza, take a look at our tips from the professionals below. Good luck, happy shopping!
Linda Lee, Group Vice President Macy's By Appointment:
· To save time and avoid a hectic shopping experience shop early before the crowds hit the stores.
· Most importantly, organize your list by Men, Women,Children, so that you don't forget someone and have to double back to where you have already shopped.
Paula Correri, Fashion Director at Lord & Taylor:
· Make sure to carry your cross body bag, so you can be hands free and be "quick on the draw" with your Lord & Taylor savings pass!
· Comfy footwear is essential, wear your most fashionable flats of the season, the "le smoking" slipper.
· After you score the season's hottest small electronics, make sure to visit L&T's main floor for your must-have tech-savvy accessories.
Cacky Rhoades, the Social Shopping Advisor at Gap Inc. (Gap, Old Navy, Banana Republic, Piperlime and Athleta)
· Using social media will make shopping more efficient and easier. We've created a site to make it really easy for customers to access all of the deals to clear through the social clutter where you can get the deals of the moment, styling tips and find out about key items in store.
· It's never too early to start shopping for the holidays, I think there is a great energy in the store during Black Friday. It is a fun time to start your shopping as there are fun deals to take advantage of.
· Use your phone. You can ask questions virtually and get real time help from professionals.
Bloomingdales:
· Take advantage of Bloomingdale's complimentary personal shopping services: At Your Service and At His Service. They can pre-shop for customers and present ideas in a private setting, or shop alongside customers to offer suggestions. Then, they can coordinate gift-wrapping and shipping or delivery. And, they work with any budget!
· Customers can check bags or other packages when they get to the store, so they can be free to shop around. Bag check is located on the balcony, off of the main floor.
· When you want to refuel during your shopping, make sure you eat. Check out one of the store's food offerings.
Neiman Marcus/Bergdorf Goodman:
· Use all the tools that are available to you, follow stores on Twitter and Facebook, download their catalog in advance and do research online using the tools in your home. That's a great way to get a sense before you even go into the store. We tweet all the time, so if there are last minute sales it tends to be the people who follow us closely who get in on them!
· Create a wishlist that you can share in advance.
· Start making your list of things to buy now so that you're not easily tempted by the first thing you see. Take the time now and be old fashioned- write out your list, who you need to buy for and what you're looking at so that you're not tempted into impulse buying.
· Be efficient!
Century 21:
· Start shopping as early as possible for the holidays. The more time you have to shop, the less likely you are to overspend. Shopping at Century 21 Department Store is great for people who like to give designer brands, but don't want to pay full price. We are up to 65% off retail everyday, so you never have to wait for a big sale or a coupon.
· In order to stay organized, make a list of each person you have to buy a gift for and allocate how much money you would like to spend. If you make a clear chart with a budget this will help you not to forget someone or overspend. Century 21 has something for everyone on your list, from designer men's, women's and children's apparel and shoes to accessories, housewares, cosmetics and more!
· Be a loyalty member! For example, using your C21 VIP loyalty card allows you to acquire points while getting insider perks that only members have access to. Also, check social media outlets like Facebook and Twitter for other great insider deals and promotions.