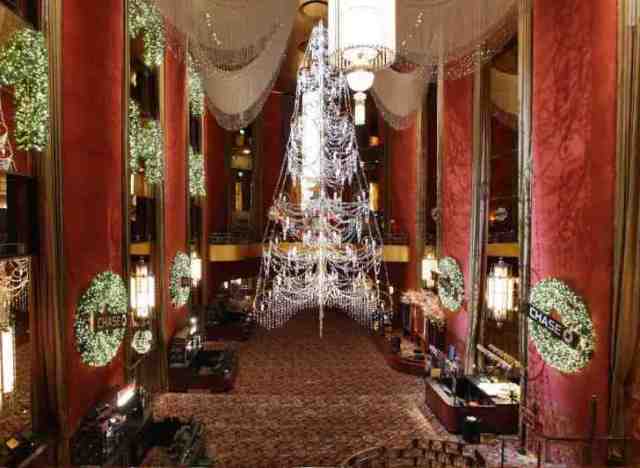 Photo courtesy of HGTV/Scripps Network Interactive
Now that Thanksgiving is over, here comes the winter holidays, and what better way to welcome them than to watch an iconic American building get its own festive makeover. Radio City Music Hall, home of the famed Rockettes, and HGTV teamed up to transform the venue into a winter wonderland. The one-hour special, Radio City Holiday, premiered last night and we got the chance to talk to designer Thom Filicia about his inspiration for the space and his favorite holiday hot spots.
How did you get involved in this amazing project?
"When I got asked to design Radio City Music Hall I was thrilled and very excited to accept. It is such a cool honor to decorate such an iconic American building that is so much a part of our history. I mean, this place is completely Americana and the design is fabulous!"
Radio City is definitely an iconic building. How did you work with the art deco style and how did the beautiful architecture inspire you?
"To start with some history, when Rockefeller sent his designers to Europe to get inspired by the great European theaters, all of them were more influenced by the steamship that sent them there than the great European Opera houses. I based my design on their minimalist style. The outside of Radio City has all the traditional holiday decorations from green garlands to red and gold lights, so I wanted the inside to take a different direction. I looked at the fabulous architecture, from the steel doors and metal stair railings to the reliefs and murals, and knew I really wanted to make the design coordinate with the architecture so they were in a beautiful harmony. I didn't want those fabulous features to disappear."
You talk about taking a step back from traditional holiday design - how can people create unexpected holiday decor in their own home?
"The first thing to do for unexpected decor is not to think about it as buying Christmas decor. You should really look at your design and color palette, and give the holiday decorations a sensibility that works with your home. That's the best place to start because your personality will make it unexpected. From there, think about taking things you use all year long, like beautiful votives, and dress those up for the holidays. Bring things in the from the outside, like beautiful bird feathers and pinecones, and mix them in with your every day items. Have fun with it, and then you can add in some more traditional Christmas or Hanukkah or New Years items. You'll end up having a really nice layered look that goes from fall to winter."
Scroll down to continue reading the interview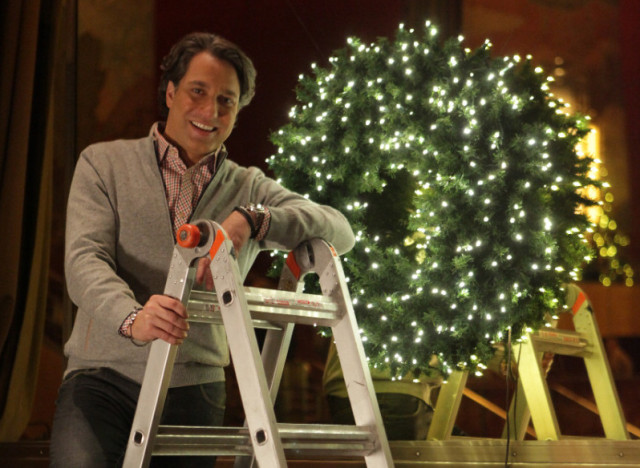 Photo courtesy of HGTV/Scripps Network Interactive
Speaking of unexpected, what are some of your favorite holiday color palette's that steer away from the more traditional red and green combination?
"This year, I'm loving silver and gold. I've used silver and gold with crystals to get that great icy feel. It looks really fresh and you can mix some red or green hints in with that to make it a little more like Christmas."
To go back to the Radio City Special, it must have been amazing to peek inside 'American Christmas.' Can you tell us about visiting their factory and getting a sneak peek of their super-sized ornaments?
"American Christmas was fabulous, just incredible. It was such a treat to see their space - I felt like a kid in a candy store. They were so professional, and they knew exactly what they were doing, so it was very easy for me to conceptualize and for them to pull everything together. It was hugely inspiring to go through their showroom and see what they'd used [like seven foot tall holiday lights and eight-foot wide wreaths]."
In the special, you mentioned a great tip about designing where people can see. What do you think are the holiday hot spots?
"When you are designing for a space where there will be a lot of people, things on the floor might disappear. Or, if everyone will be sitting down, things on the ceiling might go unnoticed. You need to design for the space and not just the holiday, and you need to be thoughtful. You don't want to put all your time into making a beautiful basket full of pinecones and ribbons, and then put it in the corner where a baby stroller can be plopped down right in front of it. And, if you are working on a budget this is especially true. If you are focusing on 2-3 great holiday decoration moments, you want to get more bang for your buck and put them where people will see them. Just sit down in your room, and take a few moments before putting anything on the walls."
Were there any funny moments during the filming and designing of Radio City that didn't make it on the special?
"There were some great moment of me in the back playing with some camels that I think would have been fun. Or, I was on stage dancing and singing, but, you know, I can't dance or sing so they left those out. Oh, I also walked down the grand staircase and pretended it was my my apartment…what a dream!"
Where are you spending your holiday?
"In the Finger Lakes in Central New York. I just went to an event where I met the governor, which was fabulous, and I met a bunch of people in the wine world. But, my entire family is coming in from the west coast and Florida and New York City so we can celebrate in the Finger Lakes together."
Any last words of advice about decorating for the holidays?
"Yes - have fun with it, but don't over decorate and certainly don't take it too seriously. It's the holidays, just have fun!"
Do you have Christmas on your mind now? Check out some of our craft ideas, like glittered pinecones and a DIY advent calendar, for the holiday season.