Story comes courtesy of MarPop
By Mar Yvette
We all know about the importance of eating local. Not only does the food invariably taste better, but you're helping the environment and supporting local farmers and purveyors. And the same goes for fashion. Some of the coolest clothes are being made right here in Los Angeles. (And no I'm not talking about American Apparel. Leave that for the 20 year olds.) Admittedly, I buy plenty of clothes that come from all over the world (Hi, China!), but some of my personal wardrobe staples are from local designers that really know how to make it work. From silk blouses and delicate gold earrings to comfy tees and sweaters, here are some of my favorite LA fashion brands.
Deborah Viereck - www.deborahviereck.com
No doubt my favorite Los Angeles designer, Deborah Viereck is based in LA and makes all of her fabulous silk frocks and blouses right here in the City of Angels. I first learned about Viereck while strolling through Silver Lake and saw this hot pink dress (which I later found out is made in her most popular silhouette, Hot Sake) just calling my name from the window of Pull My Daisy boutique. I tried it on and even though it was two sizes too big, I had to have it. Soon I was googling Viereck and personally emailing her. Two years later, I am still hooked and the proud owner of about a dozen pieces and counting. (BTW, that's me in the hot pink hot sake dress with another fun LA designer, Tarina Tarantino.)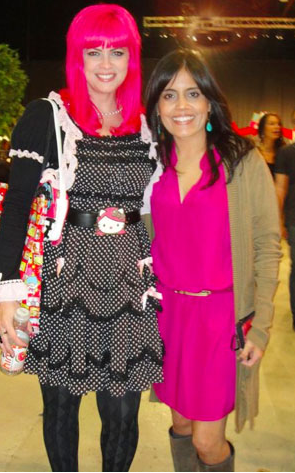 Dolan Clothing - www.shopdolan.com
I first discovered Dolan while perusing the racks at one of my fave shops, Anthropologie. There it was, right at the front of the store (which I immediately knew meant that it was not on sale) in all its flowy, oh-so-chipper, can't-help-but-make-me-happy canary yellow silky splendor. That's when I knew I had to have it. Of course, once I googled the brand and realized that this lovely line is made in Downtown LA, I just had to buy another print in the same style … and a sweater or two. I had no idea that a year later I'd be sitting right next to Ms. "Dolan" herself at a friend's dinner party. Oh, LA. Such a small world.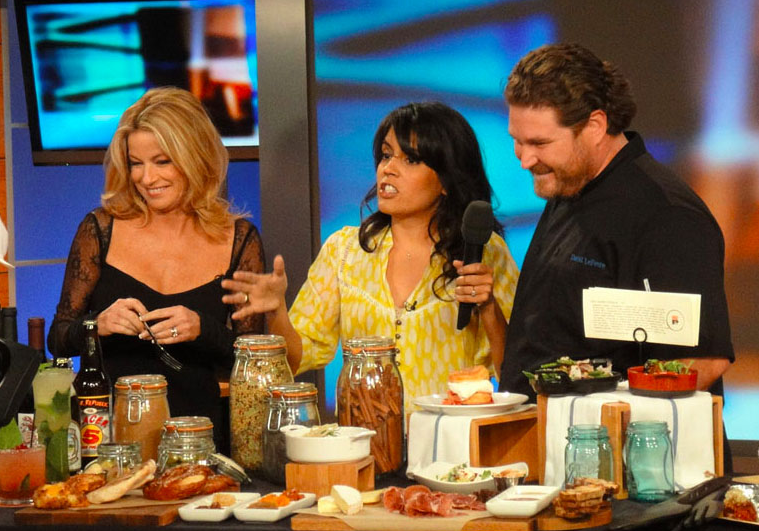 Dogeared Jewelry - www.dogeared.com
When I talk about fashion it always includes jewelry. And when it comes to the most effortlessly chic earrings, rings, bracelets and necklaces, Dogeared tops my list. They've been handcrafting their gorgeous pieces right here in SoCal for 20 years and you can shop for them online and in countless stores including Nordstrom. While I always opt for a strong bling ring, when it comes to necklaces, I tend to keep it very simple. Which is why I just love all of Dogeared's dainty pendants and chains. As for earrings, aside from gold hoops, my go-to pair is the gold-dipped "diamonds" shown in the photo. Gor-geous!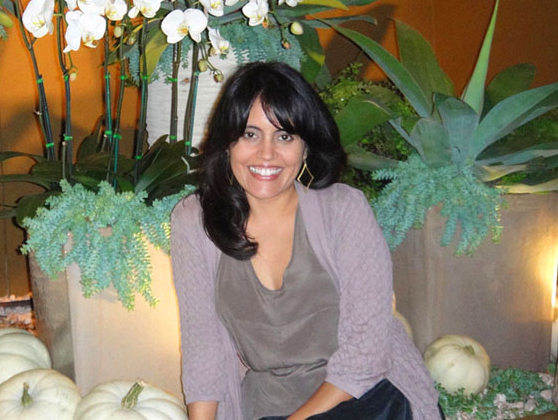 Fluxus - www.fluxusbrand.com
I already knew about the crazy Fluxus art movement in college, but when I first discovered Fluxus as it relates to the LA-based fashion brand, it was a few years ago during a jaunt to Larchmont Village. I figured any clothing line that would take its cues from such a genre-bending art movement (which means "to flow" in Latin) must have something interesting for me to wear. And I was right. To this day, one of my favorite tees is the one I got at the Fluxus shop back then, which looks sorta 80s Patti Smith and only gets better with age. I also like their lightweight sweaters. Each piece has a little unexpected something, whether it's an asymmetrical cut or a flowing hem. Fluxus recently opened up another location at Santa Monica Place, so I can shop closer to home!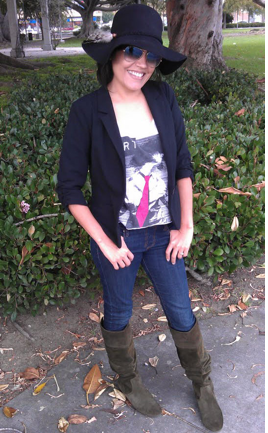 Stella Neptune - www.stellaneptune.com
OMG you had me at cashmere. And recycled. And neon screenprint. Oh yes, it's the wonderfully wacky world of Stella Neptune and this line is a hoot. (And I'm not even talking about her King Hootie owl print.) I recently met Eva, the designer of this quirky collection of revamped cashmere sweaters, while at the Vintage Expo in Santa Monica. I couldn't help but be amused by the images, which range from a flying squirrel and stately buck to an RV camper and cowboys. She even has "cashmend" iron-on patches (some of which are cleverly made in the likeness of moths), so you can fix any hole problems. Although not every sweater is originally made in LA, she does promise that each item is sourced, designed, sewn and hand-screenprinted in LA. In fact, everything is done within a 10 mile radius. Doesn't get more local than that.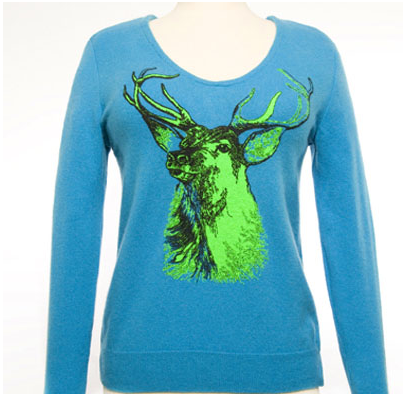 MORE NOTEWORTHY LOS ANGELES DESIGNERS:
Anthony Franco - wearable, well-tailored looks for men and women
Ashton Michael - structured tailoring, exaggerated silhouettes, very rock star
James Perse - the softest, most luxe cotton tees & basics you'll wear
Skingraft - very dramatic & sumptuous cutting-edge couture for men & women
Trina Turk - buoyant, brilliant prints; Palm Springs as fashion
Brochu Walker - lots of layering, draping & wrapped looks for women
Cynthia Vincent - feminine, casual, elegant, celebrity favorite
Maggie Barry - playful pieces from an LA fave (she made me a fab costume last year!)
Jenni Kayne - polished, high-end California living
Maggie Ward - cool & contemporary, sleek leather details
Tarina Tarantino - fantastic plastic; very cutesy, Hello Kitty
Maria Bianco Nero - sexy, body-conscious dresses (Downtown LA showroom = samples & past season merch at great prices)