This week we're bringing you a special Thanksgiving edition of the best athlete tweets of the week. With no major professional sports leagues currently in the midst of a labor dispute, there's certainly something for fans nationwide to be thankful for. But we wanted to see what various athletes in the sports world decided to tweet in regards to Turkey Day.
As usual, we've scoured our timeline from the past week to bring you what we believe to be the best of the best that athletes have to offer via Twitter. Vote on which athlete you believe had this week's best tweet. The winner will be given remarkable Interweb cred and 140 characters worth of salutations via the @HuffPostSports Twitter account.
PHOTO GALLERY
Best Athlete Tweets Of The Week (Thanksgiving Edition)
Last week's champion tweeter was none other than All-NBA first teamer Kevin Durant, who indicated he may return to school to finish his degree following the latest collapse in labor negotiations. But with a new deal now in place, Durant may want re-think that plan.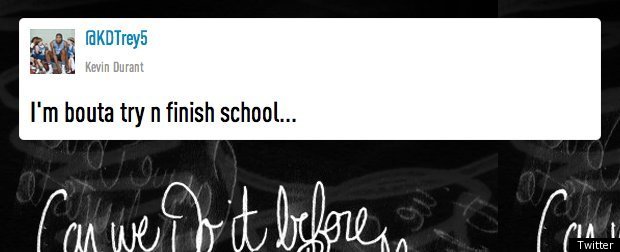 Please congratulate Kevin and give him a follow @KDTrey5. You can browse and vote on this week's nominees below: