England has a population of approximately 50 million. That's a heck of a lot people -- and you'd expect that at any given moment, you can't please everyone.
But the Advertising Standards Authority (ASA) has been trying to do just that.
The latest ad banned by the ASA is a lingerie ad by Marks & Spencer, which features a model wearing a bra and underwear. As the Telegraph reports, the model is sitting on a bed with her knees bent, legs spread apart and her back arched.
Is it sexy? Yes. But does it imply sex? Well, considering there's no one else in the image but the one model, not exactly. And the fact that she's wearing her bra and underwear? Well, you tell us another way to advertise for bras and underwear.
Regardless, the ad, which can currently be found on the sides of British buses, has been officially banned by the ASA after receiving a whopping 15 complaints.
Just add it to the list. Last week, a series of ads for Lynx deodorant caused a (small) stir for their salacious nature, featuring the scantily clad bod of pinup Lucy Pinder. The ASA said it received 10 complaints about one of the images -- and subsequently banned it.
In February, a TV spot for Yves Saint Laurent Belle D'Opium perfume was banned after 13 viewers complained. And one of Hailee Steinfeld's adorable Prada ads was banned after the ASA received, so it seems, just a single complaint.
All of which has us wondering: should an ad be banned if anyone, even just one person, is not happy about it? Is it possible to please everyone... and should that even be a goal?
Check out the banned ads below and let us know what you think.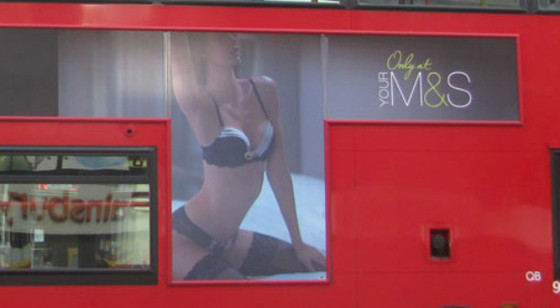 PHOTO GALLERY
BAnned UK ads