Herman Cain's sour week is still going strong.
The GOP presidential hopeful spent his Monday afternoon on CNN's "The Situation Room," performing damage control against fresh allegations of a 13-year extramarital affair. The news had Republicans calling for his exit.
With a slew of sexual harassment charges looming in the background, Super PAC Americans for Herman Cain has released a new ad entitled "Vindicating Herman Cain." The only problem is, the site fails to spell his name right.
A trip to americansforhermancain.com brings forth an interesting truth. The Super PAC is paid for by the 9-9-9 Fund, which sports a banner in the top left corner that reads "999 Fund Supports Hermain Cain for President" -- with Cain's first name misspelled as "Hermain":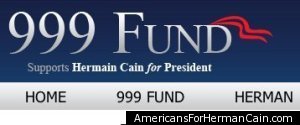 At the center of the homepage is the 30-second ad, which aims to bring "truth" to the sexual harassment charges. The clip presents findings from "one of the foremost lie detector experts in America." In comes an unnamed gentleman, who explains that his exam shows Cain telling the truth about the allegations.
Gawker notes that this lie detector test did not involve an actual sit-down with Cain. The footage originates from a November CBS Atlanta report, which had the analyst measure Cain's audio from a press conference on the subject.
Outside of the charges, the ad moves on to "focus on what matters," citing Cain's standing as a Reagan conservative, his easy-to-understand 9-9-9 plan, and his ability to create jobs.
WATCH THE AD:

BEFORE YOU GO