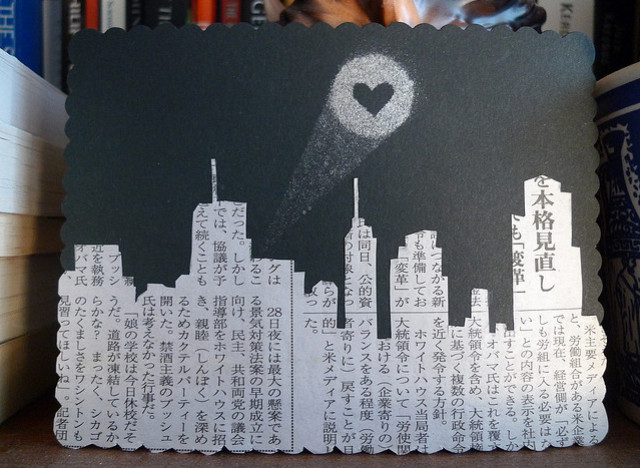 Flickr Photo by lauren
We're hoping to save future generations from the horror of wearing matching knit sweaters by telling you that holiday cards don't have to scream 'Christmas' or 'Hanukkah.' All a card needs to do is tell someone you care, which is why we love this less traditional, but still sentimental, card. The black and white color scheme is super chic and the loving message still comes through loud and clear. Follow the directions below to try it out yourself.
What You'll Need:
Newspaper
Skyline stencil
Black construction paper
Scissors (straight and scalloped)
Glitter
Glue
Paint brush
Pencil
How To Make It:
1. Print out a photo of your favorite skyline and cut it out to make a stencil. (For a sweet personal touch, use the view outside your window, or the skyline nearest to your friend's home).
2. Tape the stencil to a sheet of newspaper and trace around it. (For a more decorative look, use a foreign language so your reader won't get distracted by the words in the news article. If you are using English, turn the paper so the words are vertically aligned and therefore harder to read).
3. Cut out the skyline and glue it onto black construction paper.
4. Use your scalloped scissors to cut out the card.
5. Draw the spotlight using a pencil. (You can draw the heart, or put a sticker there to peel off later).
6. Use your paint brush to apply the glue. To get two clearly defined shapes, make sure the circle has a thick layer of glue while the triangular trail has a thin layer.
7. Sprinkle on the glitter. (If you used a sticker for the heart, peel it off before applying the glitter).
8. When the card is dry, flip it over, write your message and send it out!
For more awesome handmade cards for the holidays, flip through the slideshow below.