It's hard to imagine a time without the ubiquity of Britney Spears, when tabloids didn't dissect her dating life or catch phrases didn't begin with "Oops, I ..." or "I'm not a girl, not yet ..."
The former Mickey Mouse Club child star skyrocketed to international infamy with 1999's "Hit Me Baby One More Time" and instantly iconic music video; an ascent to the pop princess title together with boyfriend Justin Timberlake seemed only inevitable. For a moment, Spears seemed on top of the world -- the most searched person on the internet in 2003 and America's sweetheart. But what a dramatic past 13 years it's been: from impromptu weddings in Vegas to K-Fed, the birth of her two children and her head-shaving, her spectacular, sparkly is-she-nude 2000 VMA performance and her baffling, world-weary showing seven years later, to the VMA Vanguard Award she received this year and subsequent tribute -- we've lived it through it all with Britney.
Now, 100 million records sold later, we toast to the Princess of Pop's 30th birthday with a timeline of memorable highs and lows.
December 2, 1981: Britney Spears is born in McComb, Mississippi. She later moves to Kentwood, Louisiana. Starts taking dance classes at age 3.
1986: Makes her singing debut at age 5, at her kindergarden graduation. Sings "What Child Is This?"
1990: Auditions for The Mickey Mouse Club but was told she was too young to join. Attends the Professional Performing Arts School Center in New York City instead for the next two years.
1992: Performs on "Star Search" at age 10; wins the first round but loses the second.
"Star Search"
1993: Joins Mickey Mouse Club at age 11. She joins Justin Timberlake, Christina Aguilera and Ryan Gosling on the Disney show, which is cancelled just one year later, in 1994. She returns to Kentwood.
"Mickey Mouse Club"
1998: Britney signs onto Jive Records at age 16 (after being rejected from three other record labels). Records her first album, "Baby One More Time."
1999: Releases "Baby One More Time," along with the Catholic schoolgirl music video (Britney's idea). Appears on the cover of Rolling Stone scantily clad in a bra and underwear -- while holding a Teletubby -- to the outrage of parents nationwide. How To Create A Scandal: 101.
"Baby More One Time"
2000: Pop star transformation complete: Her iconic, sparkling is-she-nude debut at the MTV VMAs had people gasping when she ripped off her suit and top hat (while singing the Rolling Stones' "Satisfaction) before giving a fierce performance of "Oops... I Did It Again." Man. Can anyone still dance like this anymore?
"Oops!...I Did It Again"
2001: Tries to upstage last year's VMA performance by performing "Slave 4 U" wearing nothing more than a gauzy bikini and live, writing albino python.
2002: Breaks up with Justin Timberlake, stars in the ill-fated movie "Crossroads" with Zoe Saldana. A coincidence? We think not.
"Crossroads Trailer"

2003: Yup, she does it again -- creates an iconic moment, that is. This time, Britney locks lips with Madonna during a rendition of "Like A Virgin" that also featured Mickey Mouse Club mate Christina Aguilera for the VMAs. Releases album "In The Zone."
2004: Shocks the world by marrying childhood friend Jason Alexander in Las Vegas. The marriage is annulled just 55 hours later. Later that year, Britney marries Kevin Federline, with whom she stars in the short-lived (and widely-panned) reality TV show "Britney and Kevin: Chaotic."
2005: Britney becomes a mother; gives birth to Sean Preston Federline.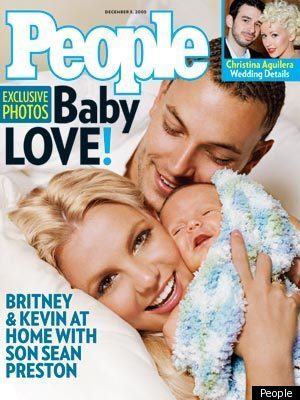 2006: Britney gives birth to her second child, Jayden James Federline. Divorces Kevin Federline. Tabloid attention on her mothering skills heat up.
2007: A big year for Britney, where she attempts to make a comeback. Britney is photographed shaving her head; checks in and out of rehab facilities. Loses custody of her children to Federline. Performs at the VMAs; 50 Cent and Rihanna look on baffled. Releases "Blackout" with hit singles "Gimme More" and "Piece of me" despite rampant negative press.
"Gimme More"
2008: Britney commits to the psychiatric ward of Ronald Reagan UCLA Medical Center; is released. Regains her visitation rights to her children; releases sixth studio album "Circus." Does a surprise short cameo on "How I Met Your Mother," is well-received.
2010: Britney appears on "Glee" in their Britney episode, with Heather Morris starring as the pop singer in a critically lauded performance. Britney stays quiet about her personal life, confirming only that she is dating her agent Jason Trawick (with whom she is still together).
2011: Releases seventh studio album, "Femme Fatale." Receives Video Vanguard Award from the VMAs; embarks on an international "Femme Fatale" tour. Engagement rumors between Britney and boyfriend Trawick, who is featured in the steamy music video for "Criminal," swirl.
CORRECTION: A previous version of this article misstated Britney Spears' birthplace as Kentwood, LA; she was, in fact, born in McComb, MI. The article also attributed the "Satisfaction" song to Michael Jackson, when the sung was originally sung by the Rolling Stones.
BEFORE YOU GO