Tagging your friends on Facebook has come a long way since it was first introduced in 2009.
Back when photo tags were new, you had to first type the '@' sign and include a person'a full name; then Facebook decided to allow you to tag someone by just first name or last name; and then you didn't even need to type in the '@' symbol at all.
Now, thanks to a great Facebook hack discovered by the French blog My Community Manager and translated into English by Wise Metrics, you no longer have to tag a friend using their first or last name: You can now tag them with any nickname, phrase, descriptor or set of profanities you want. It's a powerful trick with huge implications for pranking and embarrassing your friends, family members and neighbors (and other, more benign uses).
You can seriously tag anyone you want with whatever words you want. Here's a message I sent to my editor, Bianca Bosker, using the new trick: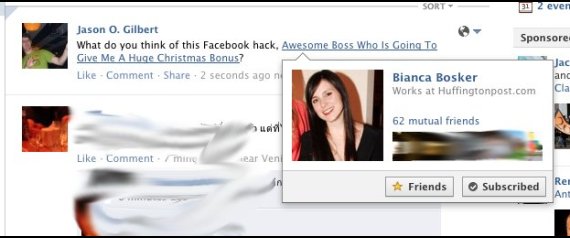 Want to try it out for yourself? The process is fairly simple and involves just a few easy copy-and-pastes. Here's how it's done:
1. THE CODE
First, paste this ("@[0:[NUMBER-ID:0:TEXT]])" into your status update box: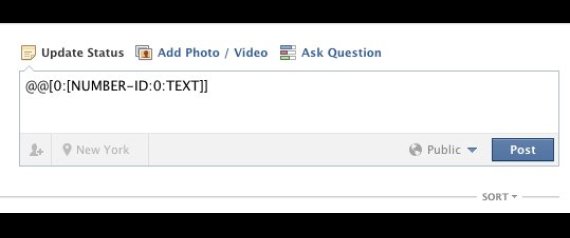 2. FIND THE NUMERICAL ID
Next, we need the numerical ID ("NUMBER-ID") for the person you want to tag. For some of your friends, this is at the end of the web address for their profile page. That's true for my friend Elizabeth:
Other people have custom Facebook addresses, with a username at the end rather than a string of numbers -- mine, for example, is www.facebook.com/gilbertjasono. To find any numerical ID, replace the "www" in the address with the word "graph" (as in "graph.facebook.com/gilbertjasono") When you go to that site, you will see a screen like the one below, which will list your friend's user ID as the first number. Copy that number: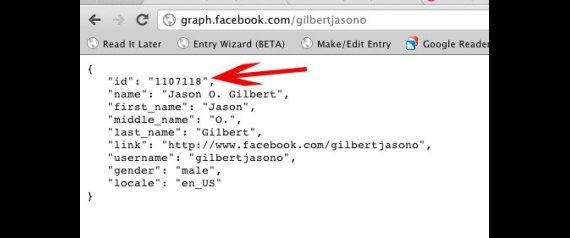 3. PASTE THE USER ID INTO YOUR CODE
Now that you have the Numerical ID, delete the word "NUMBER-ID" from your code from Step 1 and paste in that string of numbers. If you were trying to tag me on Facebook with my number ID (1107118), you would have this:

4. HOW DO YOU WANT TO TAG YOUR FRIEND?
Now you have something that looks like @@[0:[1107118:0:TEXT]], so you need to fill in the part of the step that says "TEXT." This is where you choose how you want to tag your friend. If you wanted to tag me as "The Coolest Tech Writer On The Planet," for example (it's on my business card), you would type just that into your code: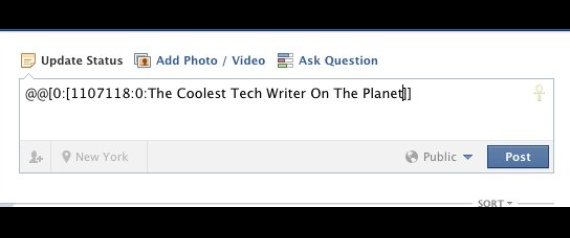 5. WRITE YOUR MESSAGE AROUND THE TAG
So, you now have a complete custom tag that's ready to go -- you just have to write a message to the person you're tagging, the actual content of your status update. No need for fancy code here, just write an update like you normally would.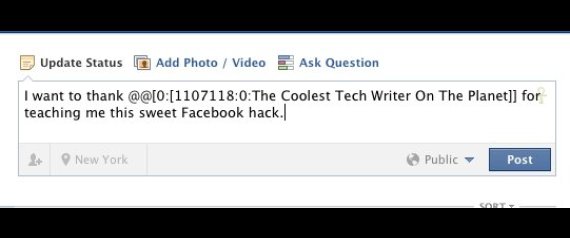 6. POST YOUR UPDATE!

Click post and you'll see a status update that looks like this: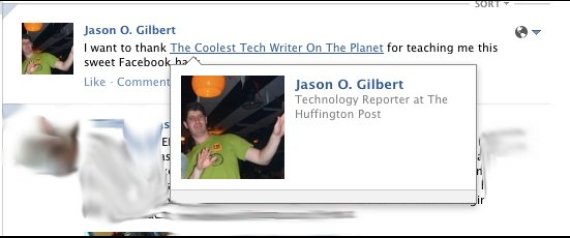 BAM! You just posted your first status update with a custom tag of your friend, family member, pet or whatever!
Now have fun, keep it cleanish and surprise your Facebook buddies with the new trick you've learned; perhaps soon they'll be tagging you as "Facebook Hacking Wizard" -- if that's something you want, anyway.