The votes of 60,000 New York state residents were discarded in last year's election because voters accidentally selected two candidates instead of one, a new report finds. The "overvotes" were concentrated largely in Black and Hispanic neighborhoods, particularly in New York City.
Statewide, about 20,000 votes for governor were thrown out and 30,000 to 40,000 votes for other candidates were voided.
The report, released Monday by the Brennan Center for Justice at New York University School of Law, statesthat the double votes stem from confusion over the state's new optical-scan voting system.
When overvoting occurs in the new system, this screen pops up: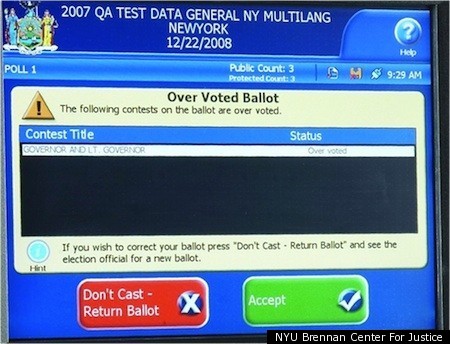 "Our concern was that a lot of people, not understanding what that message meant, would just go ahead press 'accept'-- green seems like a good thing, it seems like a way to get your vote to count," Larry Norden, one of the report's authors, explained to WNYC. "In fact, what ends up happening in those circumstances is that your vote doesn't count."
Those discounted votes were found disproportionately "in areas with higher populations of low-income residents, people of color and immigrants."
The study found that 32 percent of election districts in the Bronx had excess-vote rates of greater than 1 percent. So did 19 percent of election districts in Brooklyn, 14 percent in Queens, 12 percent in Manhattan and over 10 percent in Staten Island. The excess vote surpassed 5 percent in the South Bronx, in Brownsville, Bedford-Stuyvesant and Brighton Beach in Brooklyn and in East Harlem in Manhattan.

Based on the number of discarded votes from last year, Norden and report co-author Sundeep Iyer, predict that with a higher number of people at the polls because of next year's presidential election, as many as 100,000 votes are at risk of being scrapped in 2012.
Responding to a lawsuit by the New York State conference of the National Association For the Advancement of Colored People, the State Board of Elections says it will provide clearer instructions on the machines to avoid overvotes. "Such a warning will inform the voter of the problem in plain English ('you have filled in too many ovals'), and clearly explain the consequences of casting an overvote ('your vote will not count')," the report says.