FindTheBest.com is a website name that illustrates its purpose: The site exists to help shoppers compare any similar product side-by-side -- cars, gadgets, colleges, anything -- to determine which is best for them, based on their preferences and what features they find important.
For each category, and there are dozens on the site, FindTheBest lets you sort and filter results however you like. So, if you're looking for a hybrid SUV for less than $40,000, you can do that by visiting the site's selection of cars under the "Motors" listings, then by checking off the "SUV" option under the car page's "Categories" list, selecting the "hybrid" option under the "Fuel Type" list, and by setting the "Base MSRP" range to include models priced under $40,000.
And if you're looking for a personal credit card that rewards air miles and has a low fee, you can do that by checking off "air miles," "personal use" and "low fee." If you want a simple overview of the three most highly rated smartphones available, you can see that, too; FindTheBest has now assigned a numerical "Smart Rating" score of up to 100 for everything on the site, much in the way that Metacritic assigns aggregated scores to movies, music and television shows.
With FindTheBest's new redesign, which rolled out Wednesday, you get a much more visually-friendly, infographic-style comparison of each smartphone. Here's how the new comparison view looks: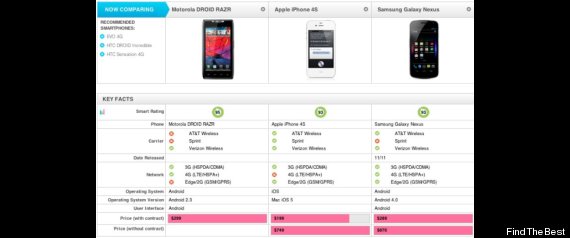 Click for larger image and way more specs.

Though the site has been live since August 2010, it was hampered by a clunky, somewhat unintuitive design. Kevin O'Connor, FindTheBest co-founder and CEO (and co-founder and former CEO of the wildly successful ad-serving platform DoubleClick) hopes that this more visually-pleasing and easy-to-use facelift will make his new venture the default for the consumer who wants to do some comparison shopping before purchasing, well, anything:
"What Kayak does for travel, we do for the 1,000 other big decisions in your life," O'Connor said to explain FindTheBest. "Most of the things we're focusing on are products and services you're spending a lot of time researching. In order to compare something, you need products side-by-side. You can read a review of something, but how does it compare to my other choices? We decided that picking a college or picking a dog or picking a tablet computer was basically the same process."
If this sounds quixotic, perhaps it is; it was formed as O'Connor attempted to complete and codify a traditionally difficult task. The idea, O'Connor said, came from his dissatisfaction with the many Excel documents he had made comparing the different colleges to which his daughter was applying. Out of those rows and cells of data, the original FindTheBest was born, which O'Connor derided as "spreadsheet-y":
"It had lots of mind-numbing numbers that didn't necessarily mean anything to consumers," O'Connor said of the original site. "The big difference that we've done [with the redesign] is that we've used infographics in this case to show what the numbers actually mean. What does eight megapixels mean, how does it compare to everything else out there -- is it good, bad okay -- where does it fall in the range?"
To that end, FindTheBest is introducing a few new features, along with its decidedly less spreadsheet-y layout and search function. First is the aforementioned "Smart Rating," the aggregated numerical score; the new infographic view, which features color-coded rankings based on a product's quality relative to competitors (for example, a 2-megapixel camera on a smartphone would be red; an 8-megapixel camera would be green); and several new filters across all categories of products. With all of these, O'Connor hopes that the new FindTheBest will better help its users to make "unbiased, data-driven decisions."
"There is no single best product; there is just a best product that meets your needs," O'Connor said, creating a kind of mantra or mission statement for the data-centric site.
On the web, however, content is nothing without design. If FindTheBest was to be the best best-finder on the Internet, then the layout had to make it extremely easy for people to filter and sort products by needs, whether they were shopping for something spec-dependent like a laptop or for something more subjectively decided-upon like a new puppy.
With FindTheBest 2.0, O'Connor and his team think they've got just that layout. Time will tell if they've found the best.
Visit FindTheBest.com to see the new layout now. You can select and compare products you're interested in by clicking the blue "Compare" button, located at the top right of the chart-like product listing displays, to view an infographic-style breakdown of the products' pros and cons.
BEFORE YOU GO