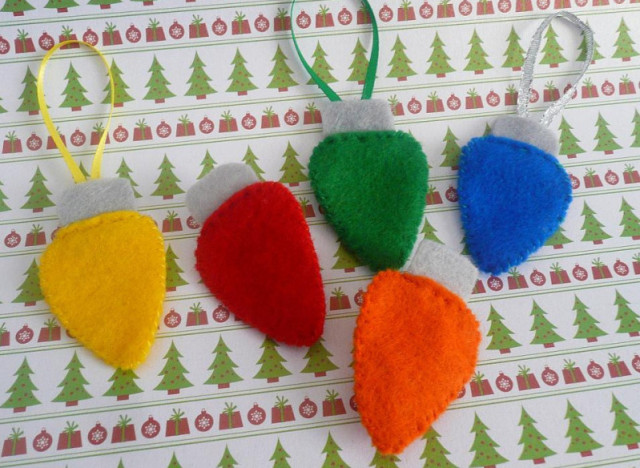 Flickr Photo by Ritzee Rebel
From the bright and cheery multicolored strands to the elegant white sparklers, lights are one of the best parts of the holiday season. So, in this Craft Of The Day, we're paying homage to this Christmas staple with these DIY felt ornaments. They'll look great hanging on your tree, strung along as a garland, or even as tie-on wine labels. And, the best part is, they take almost no time to make!
What You'll Need
Felt
Scissors
Needle
Thread
Ribbon
How To Make It
1. Cut triangles with rounded edges out of colored felt, and then cut small rectangles from gray or white felt.
2. Take two of the same colored triangles and one gray or white rectangle, and line them up with the rectangle positioned in between. (Make sure the rectangle pokes above the colored felt like in the photo).
3. Sew around the edges so all three pieces are stuck together.
4. Loop a strip of ribbon and sew it to the backside of the light. (For wine labels, sew so there are two ends to knot around the glass' stem).
And, be sure to check out our other great crafts in our Craft Of The Day slideshow below.
PHOTO GALLERY
Craft Of The Day
Have something to say? Check out HuffPost Home on Twitter, Facebook, Pinterest, Tumblr and Instagram.